A Circle Y Pioneer Saddle is a must-have if you're someone who loves to go trail riding with the girls, but hate having a sore butt, sore ankles and feet? Want to trail ride, go camping, or just get away for the weekend?
The Circle Y Pioneer Saddle I feature in this post will convince you that this is the saddle for you and your horse.
But before I share this saddle with you, I want you to:
Imagine this…
You've planned a fun-filled trail riding getaway with your girlfriends. Your getaway is nestled on a 500-acre spread in the heart of the scenic Hudson River Valley… It's all been planned. Trail riding during the day with your girls. BBQs, rock climbing, campfires and sipping wine under the stars gossiping about your latest crush.
What's The Problem?
The problem is, on the first day of your getaway, after just a few hours of riding, you're legs are killing you. You're hunched over like a 96 year-old lady. And you walk like one too. For god sakes. All you want to do is soak in some Epsom Salt for the next 3 months.
And you know what else? Your horse's back is sore. Poor thing. He doesn't want you to touch him with a 10-foot pole. Well, I've got a solution for you.
Today's feature saddle is the Circle Y Pioneer 1665 Flex2 Trail saddle. Circle Y is a pioneer in the industry with this particular trail Saddle.
Circle Y Pioneer Saddle Benefit #1
What's Most Important to You in a Trail Saddle?
What's so great about the Circle Y Pioneer 1665 Flex2 Trail saddle? The answer lies in the seat. There's nothing worse than sitting in a saddle on a bumpy ride for hours, with nothing to cushion the blow. Our Circle Y Pioneer saddle fixes that problem for you.
Circle Y Pioneer Saddle Benefit #2
Comfort for the Rider – Got Sore Tush?
So, your brain is racked, trying to figure out all of these awesome features. Let me help sort it out for you. First, you've got the comfort for the rider. This saddle comes with Circle Y's great impact foam seat that's known in the industry as one of the best seats you can find.
What does that mean for you? It means no more sore butt!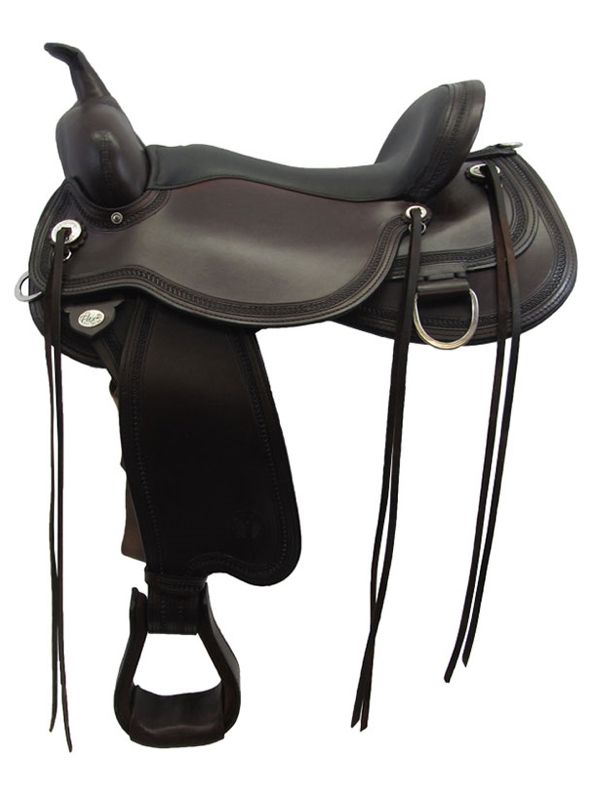 Circle Y Pioneer Saddle Benefit #2
No More Sore Feet, Ankles…
Next, you've got your EBS stirrups. What in the world is "EBS" you're asking? Well, the EBS stirrups have a cone bar, and that's going to help tip the stirrup so that it's in a more ergonomic position for your foot.
You'll notice that at the end of a long ride. Your feet and ankles will thank you.
Circle Y Pioneer Saddle Benefit #4
No More Break-In Period- It's Already Done For You…
Our Circle Y Pioneer saddle is made with Softee leather. That means, right out of the box, these fenders are ready to go. No break in period with this Circle Y Pioneer saddle. There are two soft pieces of leather that have been stitched together for one awesome, soft fender.
Circle Y Pioneer Saddle Benefit #5
You Won't Feel a Thing on Bumpy Rides
It's mighty hard to enjoy a car ride when you feel every bump in the road. Well, it's the same with trail riding. To solve that problem, Circle uses what's called the neo shock skirt filler. You can't see it on the saddle itself, so let me explain what it is and it's function.
Basically, Circle Y takes neoprene, fills the skirts underneath the leather, so that it reduces shock on bumpy rides.
Circle Y Pioneer Saddle Benefits Your Horse
Shock Absorbent Saddle
Now, what about your horse's comfort? So, you've got the neo-shock filler that reduces the shock which your horse will be thankful for. He won't feel your bouncing on his back as sharp jabs.
A Saddle That Keeps Your Horse Cool
Our Circle Y Pioneer saddle has got this nifty (cool) feature called the tunnel skirting. What exactly is tunnel skirting? A lot of saddles you'll see are closed off in the back. Not this saddle. With this saddle, you can look directly from the front, to the back, looking straight underneath the saddle.
How does this benefit your horse? Why, that's going to allow more airflow to keep your horse cooler, of course.
Even Fits Hard-to-Fit Horses (Jackpot)
Hey, what if you have a hard to fit horse? Circle Y Pioneer saddle has a little bit more of a short skirt. It comes in medium, wide and extra wide Flex2 trees, which means you can get a fit for any horse.

If you have a high withered horse, we can fit it. Got a mutton withered horse? We got you. Short-back horse? Yup. We got your covered. This saddle is great for all kinds of horses. Being that this saddle is lightweight, coming in at only around 25 pounds, your horse is going to love it.
Circle Y Pioneer Functionality…
At the end of the day, this saddle's a really cool trail saddle because it has all of the great features for both you and your horse. Did I mention it also has a close contact cut skirt, making it great for an arena trail saddle combo for all-around type pleasure work?
Sure does.
Add up all those great features, and there's no reason you shouldn't pick up the Circle Y Pioneer saddle. So treat yourself well. Buy it right here, right now. If you want a more in-depth review of the Circle Y Pioneer Flex2 Trail Saddle read it here.