What are ranch saddles, and what are they used for?   A rancher's job is to raise sheep and cattle.  Sometimes they raise bison, elk, ostrich and emu.  In order to raise livestock, ranchers need horses.  And their ranch horses need a particular type of saddle. 
Hence, ranch saddles.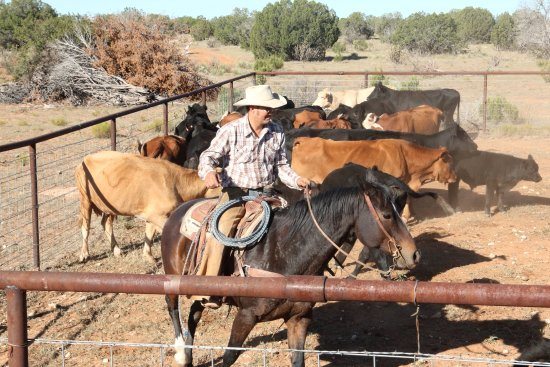 Qualities of Ranch Saddles
 Unlike other saddles for specific equine events, ranch saddles are not for short bursts of competition. Ranch saddles are heavy-duty saddles made for long hours working on a ranch.
With ranch saddles, you can expect them to be made with sturdy, high-quality trees and slick hard seats, which, based on reviews, have proven to be very comfortable.
These saddles also have plate rigging, which is more comfortable for your workhorse – who has to wear a saddle all day long.
Ranch saddles are built with security and comfort in mind for rider and horse and are usually the heaviest of all Western saddles because they handle multiple duties, like roping and cutting.
Features of  Ranch Saddles
The typical features of  ranch saddles are:
Deep Seat – The seat is set low on the horse for maximum comfort and communication with the horse
Low Swells – Low swells means they will stay out of the way of work. A lot are A-Fork saddles
Tall Thick Horn – For sturdiness. The horn has a wrap for dallying
Fenders – The fenders are hung directly below the rider for the right working position and correct riding
Double Rigging – It includes a front cinch and flank cinch to keep the saddle securely on the horse
Plate Rigging – This is for maximum strength and to prevent lopsided pulling.
Lots of Saddle Strings – So plenty of gear can be tied to the saddle
Rope Strap – To hold a lariat (the rope used for lassoing or tethering)
Heavy Weight – Working saddles can weigh over 60 pounds
Recently, the slick fork-style with Wade tree has regained popularity with renewed interest in buckaroo style of tack and riding.
Good Brands for Ranching Saddles
Ranch saddles are for sale by both custom saddle makers and manufacturers. American Saddlery makes a really strong bull hide-covered tree saddle called MasterCraft Triangle Border Wade Rancher Saddle 122.
Big Horn makes an excellent bull hide-covered tree ranch saddle called MasterCraft Pro Classic Roper Saddle 118 
Look for Rawhide and Bull Hide Trees
When looking for a ranch saddle, always look for saddles with trees that are covered in rawhide or bull hide as these are the strongest material for saddles and last a very long time.
How helpful was this article to you?  Please leave your comments or questions below!