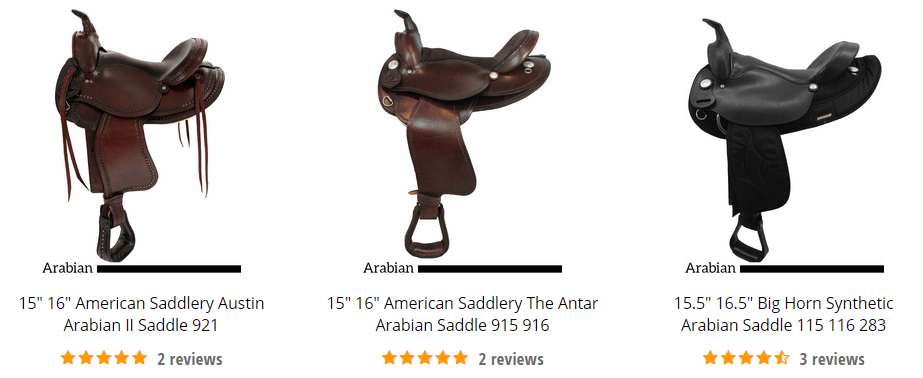 Before I get into my Big Horn Arabian saddle review, I want to talk to you a little about horses with high withers – since that's what the saddle manufacturer had in mind when they created their Arabian saddle.
Arabian horses are notoriously difficult to fit. That's because they have high withers. If you're not sure what withers are, the withers is the ridge between the horse's shoulder blades.
So if the withers are too high, which is normally associated with a narrow chest, the saddle will be difficult to fit as the saddle would interfere with the withers, causing extreme pain to the horse.
Specifications
Tree: Fiberglass covered wood tree, Arabian bars and gullet
Cantle: 4″
Seat: 15.5″ or 16.5″ grain out, padded
Horn: 2.5″ x 2.75″
Gullet Width: Medium
Gullet Height: 5.5″
Rigging: 7/8 position single front stainless steel dee
Skirts: 26″ x 13″
Fenders: 18″ x 8″, 2″ leather reinforced nylon stirrup straps with stainless steel buckles
Stirrups: Ralide with laced foot pad
Finish: Black or brown
Trim: Smooth leather front, seat jockeys, and cantle. cordura nylon skirts, housings and fenders, Hand engraved sterling silver plated conchos
Weight: Approximately 20 lbs.
If there's not enough ridge in between the horse's shoulder blades, it would not keep the saddle in place on the horse's back.
Big Horn Arabian Saddle Solution
Big Horn Arabian saddle makers have come up with a solution to the horse withers problem, as well as a host of other saddle problems – like being too expensive and hard to maintain.
3 Reasons Why Cordura Works
First, the Big Horn Arabian Saddle is made from synthetic Cordura material. Cordura is a synthetic material that's extremely durable. It's more durable than cotton duck, standard polyester, and standard nylon.
In fact, Cordura is so durable, it's resistant to tears and scuffs, which usually happen when you go for a ride.
In addition, Cordura saddles are:
Lightweight
Easy to Care For
Affordable
Stylish
The "easy to care for" part is a major selling point. After coming back from a ride, in order to get mud or dirt off your saddle, all you have to do is wipe it off with a damp cloth. And the lightweight and durable construction make these saddles more comfortable for the horse as well as the rider.
Next, Big Horn Arabian saddles are designed specifically to fit Arabian Horses, keeping this horse's conformation in mind.
Designed With The Horse's Withers In Mind
One of the most sensitive areas on a horse is the withers. This area must have sufficient clearance in order to maximize the horse's comfort while maintaining balance and security for the rider.
The Big Horn Arabian Saddle has more wither clearance, thus ensuring less pressure on the sensitive wither area. This will make your horse a lot happier, reduce sores, and other wither-related complications.
The cloth fenders are soft and very comfortable for the rider's legs as well
Currently, Big Horn Arabian Saddle has two saddle models:
The Big Horn Arabian Cordura Saddle
The Big Horn Arabian Cordura Trail Saddle
Both saddles are made from the finest synthetic Cordura materials. They're manufactured using Steele Tree Company's Equi-Fit Arabian Wood Tree technology covered with fiberglass for reinforcement.
This technology ensures that the Big Horn Arabian Saddle will fit your Arabian horse based on one of the 9 molds that the Steele Tree Company has made and tested.
The Big Horn Synthetic Cordura Trail Saddle is manufactured with the horse in mind. It's perfect for a short-backed horse or pony as it has a short rounded skirt, short bars, and less twist in the bars.
This creates less friction and ensures your horse is comfortable and relaxed. The saddle is specifically designed for Arabian horses, which makes the seating extremely secure for the rider and maximizes the horse's comfort because of its shoulder room.
It's available in 15.5" or 16.5" grain out with a padded seat covered in either brown or black Cordura. The Cordura, sterling silver plated conchos and Ralide stirrups give it an elegant look.
Other features include 7/8 position rigging, Arabian bars, and gullet – and it only weighs 20 lbs.

Other Specifications:
• 4 inch Cantle
• 2.5"x2.75 Horn
• Medium Gullet Width
• 5.5" Gullet Height
• Stainless steel dee
• 26"x13" Cordura Skirts
• 18"x8.2" reinforced nylon stirrup straps
• Ralide with laced footpad stirrups
• Hand engraved silver plated conchos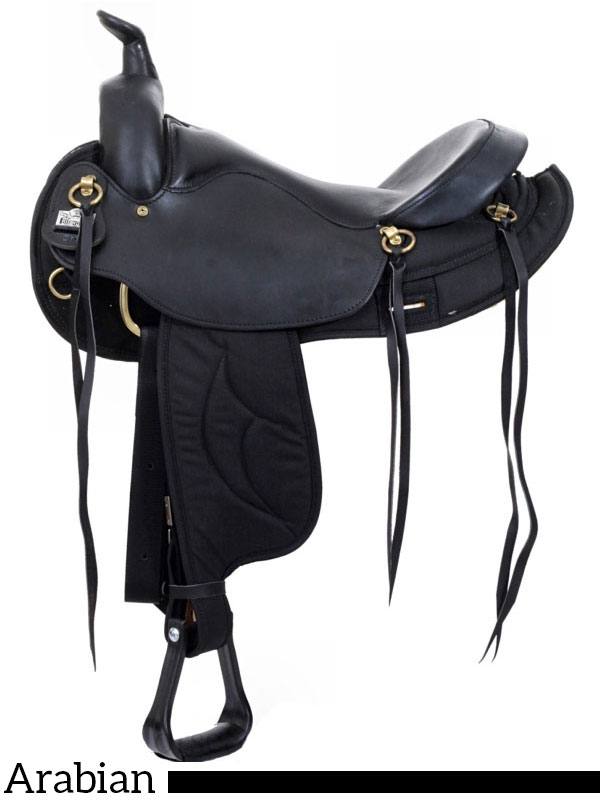 This Big Horn Arabian Cordura Trail Saddle is manufactured using a medium wood tree covered with fiberglass. The 4" cantle and longer saddle strings make this an excellent trail saddle.
There is plenty of room for equipment and camping gear. The elegant design boasts Arabian bars and gullet, brass crupper ring and stainless steel buckles.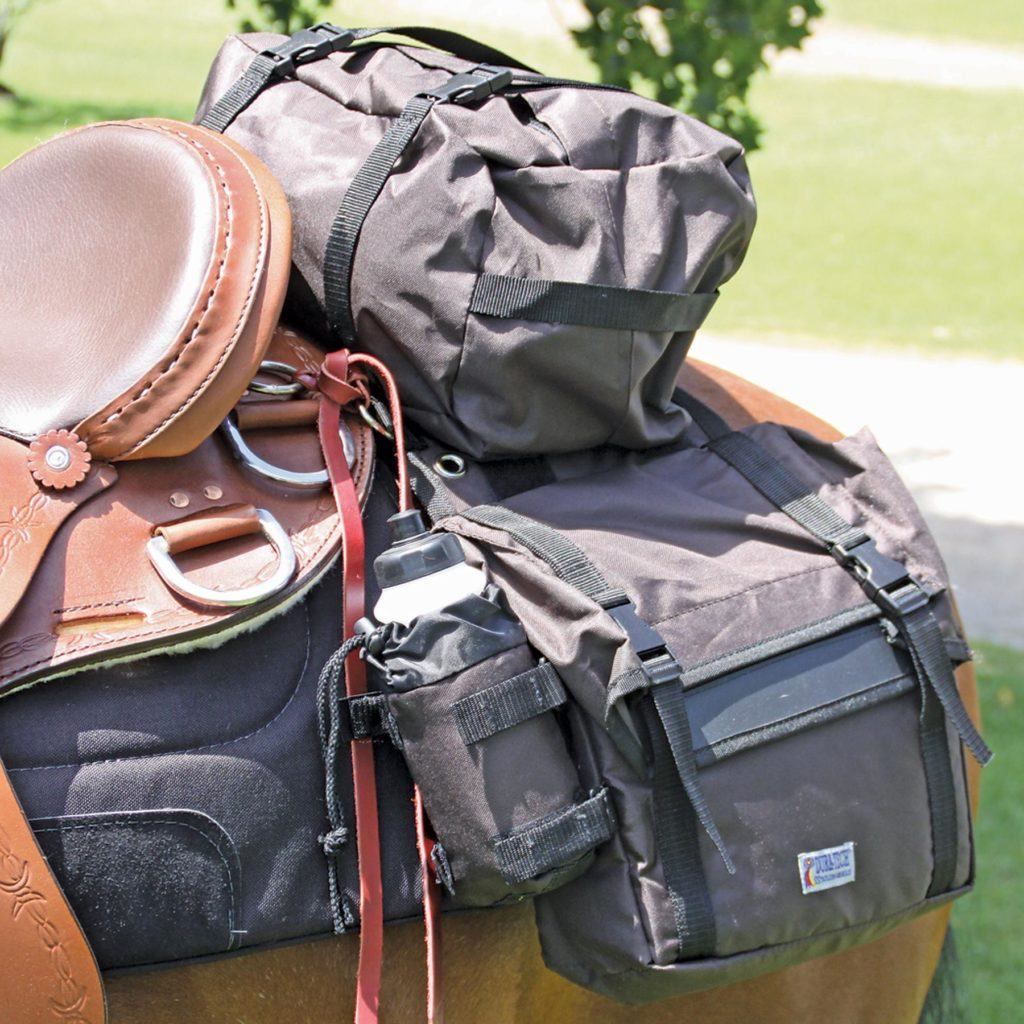 Like the Big Horn Cordura Saddle, this Big Horn Arabian trail saddle model is extremely light, weighing in at 20 lbs. It's really easy to lift. The fenders and 26"x13" skirt are made from Cordura, which makes the saddle durable, light and comfortable.
The 18"x8" Cordura fenders on this model are also extremely soft and comfortable for the rider's legs.
This Big Horn Saddle is also designed with the horse in mind. The Cordura material is very light providing minimal pressure and weight on the horses back.
Also, the wither clearance has been increased on this model as well, to ensure the horse's wither area receives minimal pressure.
Other Specifications:
• Medium gullet width
• 5.5" gullet height
• 7/8-position rigging with a single front stainless-steel dee
• Available in black
• Brass rings, leather ties and brass crupper ring
• 2" leather and nylon stirrup straps with stainless steel buckles
Now that you've read my Big Horn Arabian Saddle review, I hope it's helped you to decide if this is the saddle for you. Click here to buy your Big Horn Arabia Saddle. Maybe you'd like to check out our Endurance saddles.
If you've found this post helpful, please be sure to leave your comments below.