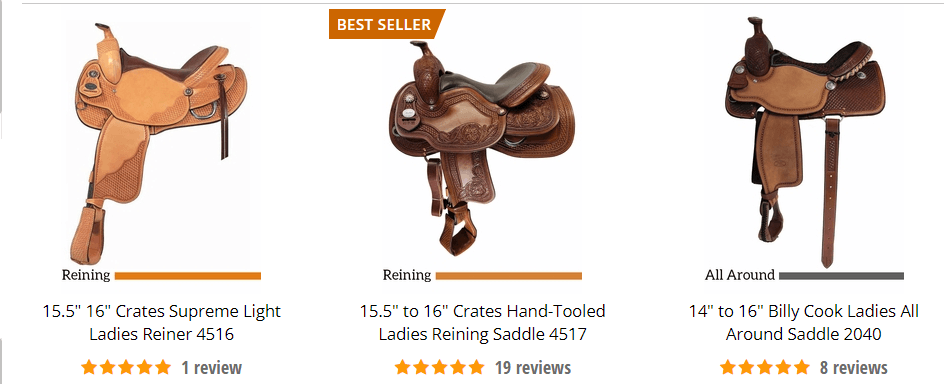 The Importance of Women's Western Saddles
Women's Western saddles have been around along time. That makes sense because 85% of riders are women. But what makes Women' Western saddles different from other saddles? Well, quite a bit. 
 
The female anatomy is different than its male counterpart. The seat bones, thigh bones, pelvis, and pubic arch differ in size and position. As such, saddles built for the male physique can create several issues for women when horseback riding. 
Therefore, uniquely designed saddles for women are necessary for a safe riding experience. But what exactly are the specific elements of a woman's saddle that set it apart from the others? Let's take a closer look!
Women's Western Saddles – Not all Bottoms are Built the Same
A saddle, like other seats, is more enjoyable when it's comfortable. However, unlike other places where we rest our bottoms, a saddle sits on top of an equine. So, the fit must work with the rider to ensure an easy and secure ride. 
If you look at an image of the female seat bones, you will notice a greater distance when compared to that of a male. The latter is a critical component to consider when designing horseback riding saddles. 
Without the proper support, a female rider will just be struggling to stay on her horse. This is why saddles made especially for women address this potential problem. The seats are wide and made to support the behind.
Women's Western Saddles – Thigh Bones, Pelvis & the Pubic Arch 
In addition to the seat bones – and equally important – are the female thigh bones, pelvic girdle, and pubic arch. Though the female femur (thigh bone) is not generally as thick as the male femur, the angle to the pelvis is far greater. 
Unlike the saddle seat that should be wide, a female saddle twist should not. A proper saddle twist size is determined based on the distance between the thigh bones. 
Traditionally built for the male body, saddles do not often address the femur differences and push the legs forward. This creates misalignment and puts extreme pressure on the hips, causing significant discomfort and pain.
A proper saddle can correct these issues. It can also prevent the pubic bone from rubbing against the saddle and getting sore.
15.5″ to 16″ Crates Hand-Tooled Ladies Reining Saddle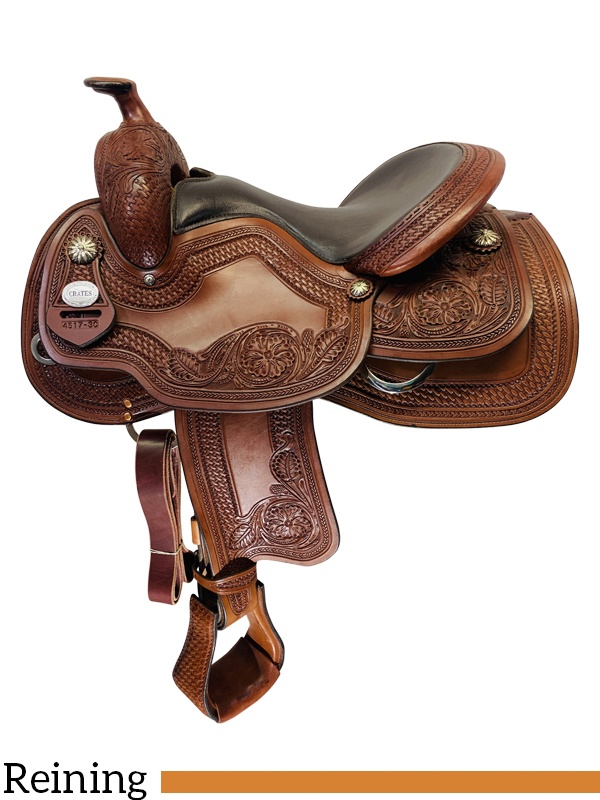 List Price: $3,478.80
Our Price: $2,899.00
Features:

Full quarter horse bars
Hand-tooled leather details
Long-lasting
Lightweight
Available in 15.5″ to 16″ seats, this hand-tooled women's saddle is popular for competitive reining events. It's considered a lightweight saddle, weighing only 34lbs, and is priced at $2,899. It also comes in three colors: natural, chestnut, or mahogany.  
But that's not it—a lower horn and pommel allow for an easy rein. Additionally, this saddle has a lower ground seat which lets the legs hang straight. 
 
Another noteworthy characteristic is its narrow twist and quarter horse (QH) bars. Full QH bars are great for horses with wider bodies due to the wider angles. Because of this, many customers rave about the saddle's ability to fit a variety of horses and create the perfect riding posture.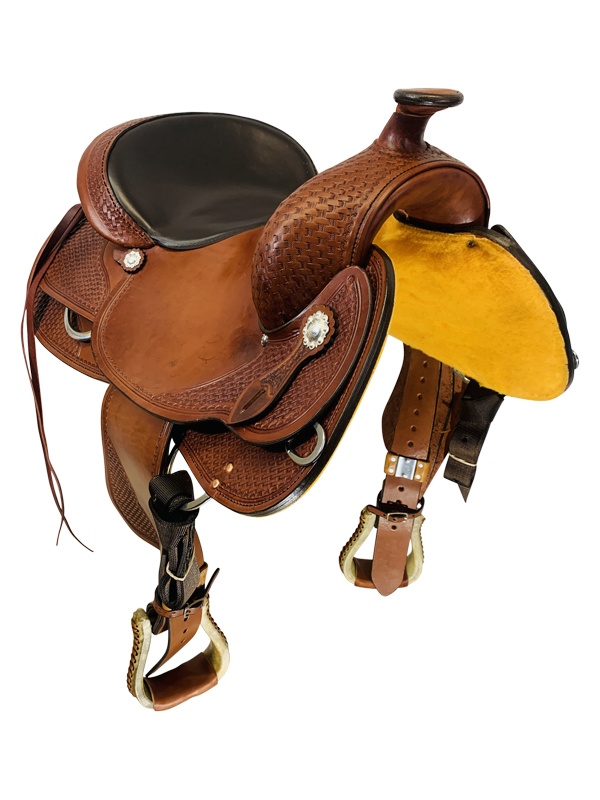 What's My Conclusion?
If you're looking for a durable saddle that's comfortable and long-lasting, this saddle is the way to go. Like other women's saddles, the Crates Hand-Tooled Ladies Reining Saddle is custom made with the female shape taken into consideration.
The seat is flat and not too deep, which prevents the rider from being pushed forward. A correct position relieves back pressure and enables the rider with total control. Chap leather with hand-crafted details gives the saddle a high-end look.
It is also practical and suitable for horses of different sizes. All-in-all, this is a great choice and worth the investment.
Was this review helpful? If you're looking for another review on reining saddles, read my Reining Saddles review.