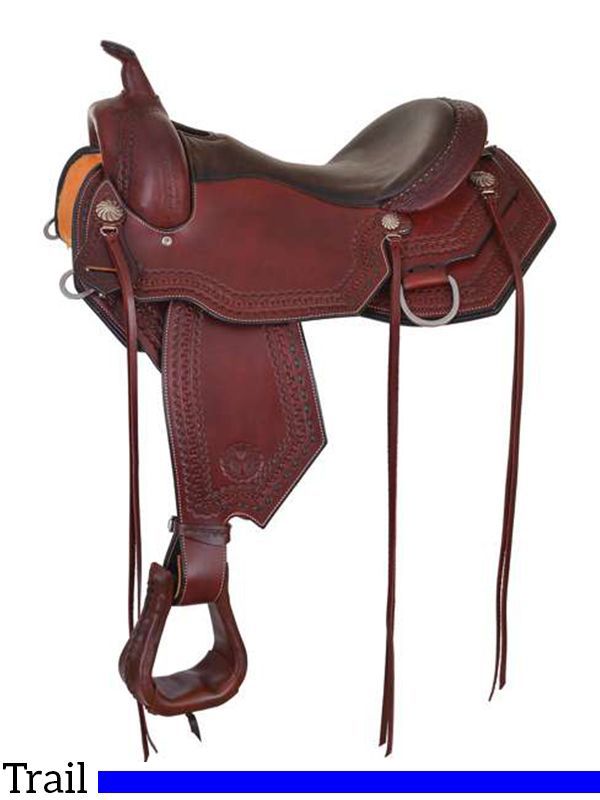 The Circle Y Tallgrass Trail Saddle presents a versatile option for a range of equestrian enthusiasts, offering a blend of design features that cater to various riding preferences and body types. When it comes to saddles that seamlessly blend tradition, comfort, and versatility, the Circle Y Tallgrass Trail Saddle stands as a shining example.
Crafted with precision and thoughtful design, this saddle has garnered the attention and admiration of riders across various equestrian disciplines. In this article, we explore the compelling benefits that make the Circle Y Tallgrass Trail Saddle a sought-after choice for horse enthusiasts.
Versatility: A Saddle for All Seasons
One of the standout features of the Circle Y Tallgrass Trail Saddle is its remarkable popularity and versatility. Whether you're a dedicated trail rider, an enthusiast of Western riding, or even an endurance rider seeking long hours in the saddle, this saddle adapts to your needs. Its well-balanced design strikes a harmonious chord between comfort and performance among a wide array of equestrian demographics such as the following.
Trail Riding Enthusiasts
Trail riders appreciate the durability of the saddle, as it's built to withstand the rigors of outdoor adventures.
Horse Owners
Horse owners value the saddle's quality craftsmanship and thoughtful design, which contribute to a comfortable ride for both horse and rider.
Recreational Riders
Its ergonomic design, combined with durable materials, makes it suitable for occasional riding without compromising comfort or quality.
Long-Distance and Endurance Riders
Its design allows for extended hours in the saddle, minimizing discomfort and fatigue.
Adult Riders of Various Skill Levels
Its moderate seat depth and secure design offer a sense of stability for less experienced riders, while its durability and quality meet the expectations of seasoned riders who demand performance from their equipment.
Western Riding Enthusiasts
Riders who engage in Western disciplines such as pleasure riding, ranch work, or Western-style trail riding can confidently choose the Tallgrass Trail Saddle.
Riding Discipline: a suitable variety
The Circle Y Tallgrass Trail Saddle is designed with versatility in mind, appealing to riders who engage in a variety of equestrian disciplines. Its features strike a balance between Western and trail riding, making it a suitable choice for those who prefer a middle ground between specialized saddles. Riders seeking a saddle that can comfortably accommodate a range of activities may find this saddle appealing.
Comfort Redefined: A Seat Designed for Joyful Riding
Riding in comfort is paramount. And with a focus on providing a balanced seat position, without leaning towards an exaggerated level of cushioning or support, the Circle Y Tallgrass Trail Saddle delivers in this department with finesse. The saddle boasts a moderately deep seat and secure cantle, offering riders a balanced and stable position.
This design element promotes rider confidence. Whether you're embarking on an endurance journey or spending quality time on the trail, the Circle Y Tallgrass Trail Saddle ensures your ride remains comfortable and enjoyable.
Craftsmanship and Durability: A Testimony to Quality
Circle Y, a renowned saddle manufacturer, is synonymous with craftsmanship and durability, and the Tallgrass Trail Saddle is no exception. Meticulously crafted with attention to detail, this saddle embodies the brand's commitment to excellence. With a focus on durable materials and workmanship, the saddle's rugged construction speaks to its longevity, making it a worthwhile investment for those seeking a reliable partner in their equestrian pursuits.
Fit for All: A Saddle for Every Horse
The Circle Y Tallgrass Trail Saddle is designed to accommodate a wide range of horse breeds and body types. Featuring semi-quarter horse bars, the saddle provides a flexible fit that ensures your equine companion's comfort. This adaptability is crucial for maintaining a harmonious connection between rider and horse, fostering a partnership built on trust and well-being.
Timeless Aesthetics: A Blend of Tradition and Style
Elegance meets Western tradition in the design of the Circle Y Tallgrass Trail Saddle. Its clean lines, classic tooling, and understated detailing offer a timeless aesthetic that appeals to riders seeking a touch of nostalgia. The saddle's visual appeal aligns perfectly with Western riding enthusiasts who appreciate the fusion of tradition and style.
In this section, we'll explore the pros and cons of purchasing the Circle Y Tallgrass Trail Saddle to help riders make an informed decision.
The Pros of Circle Y Tallgrass Trail Saddle
Versatility: The saddle is designed to cater to a variety of riding activities, making it suitable for trail riding, light ranch work, and other recreational pursuits.
Balanced Seat: The moderately deep seat and secure cantle provide riders with a stable and balanced position, contributing to a more comfortable and confident ride.
Durable Construction: Crafted by Circle Y, a reputable saddle manufacturer, the Tallgrass Trail Saddle is built to withstand the demands of regular riding and outdoor adventures, ensuring long-lasting performance.
Adaptable Fit: With semi-quarter horse bars, the saddle can accommodate a range of horse breeds and body types, making it a versatile choice for different horses.
Classic Design: The saddle features a timeless Western aesthetic with clean lines and traditional tooling, appealing to riders who appreciate a classic look.
Comfort for Long Rides: The saddle's design, including its seat shape and padding, is conducive to extended hours in the saddle, making it suitable for riders who engage in long-distance or endurance riding.
The Cons of Circle Y Tallgrass Trail Saddle
Limited Specialization: While versatile, the saddle may not excel in highly specialized disciplines due to its middle-ground design. Riders seeking a saddle tailored specifically to one activity might find more specialized options better suited to their needs.
Price Range: The Circle Y brand is associated with quality, but this may reflect in a higher price point. Some riders on a strict budget might need to explore more cost-effective alternatives.
Tooling Detail: While the saddle offers traditional tooling, it may lack the intricate detailing that some riders seek for competitive or show purposes.
Personal Fit Consideration: While the saddle's semi-quarter horse bars allow for versatility, proper fitting is crucial for both the rider and the horse. Seek professional guidance to ensure an optimal fit for both.
Aesthetic Preference: The saddle's classic design might not align with the preferences of riders seeking more modern or innovative aesthetics.
My Final Thoughts on The Circle Y Tallgrass Trail Saddle
The Circle Y Tallgrass Trail Saddle encapsulates a myriad of benefits that cater to the discerning needs of riders from diverse equestrian backgrounds. Its versatility, comfort, durability, adaptable fit, and classic aesthetics make it an appealing choice for a range of riders engaged in various equestrian activities.
However, riders should consider their specific riding goals, budget, and aesthetic preferences to determine if this saddle aligns with their individual needs. The Circle Y Tallgrass Trail Saddle stands as a testament to the art of equestrian craftsmanship, enriching the riding experience for riders and their equine companions alike.
Was this review helpful? If you'd like to review more Circle Y trail saddles designed for comfort for rider and horse, see my post, Circle Y Omaha Flex2 Trail Saddle review.