What Makes A Great Western Saddle?
In this post, I'm going give you my opinion on the top 5 best Western saddle brands. Why? Because every great western horse rider needs the best western saddle.
And for any saddle to be great, it needs to be made with care.
A good Western saddle needs to be made with the best materials available. By using high-quality materials, your saddle won't wear out quickly or fall apart; ensuring that it lasts for many happy horse rides with your horse.
Best Western Saddle Brands Start With The Craftsmen
The best Western saddle brands hire expert saddle craftsmen. An expert saddle craftsman is one that knows how to make a saddle properly. This can be either by making saddles for years or by going through a rigorous saddle making education.
Saddle craftsmen take time and pride in their work. This means that each saddle that an expert saddle craftsman makes is made to showcase their hard work, dedication and talents.
Best Western Saddle Brands – The Need for Variety High-Quality Saddles
Western saddle making has become a huge enterprise over the years. Nowadays, many brands make and sell many different saddles. This is especially true for western saddles. However, not all of these brands make saddles of the same quality.
Likewise, not all saddles are made to stand the test of time. You might have experienced this. It's common for many horse riders to become frustrated and confused when trying to find the perfect saddle.
This is why we are introducing 5 of the best western saddle brands.
Best Western Saddle Brands #1 – Circle Y Saddles
Circle Y saddle brand made the top 5 best western saddle brands for a few very good reasons. Keep reading…
History
The Circle Y saddle brand was started in Yoakum, Texas in 1960. The brand was found by Leland Tucker and has remained a family-owned and operated business ever since. Famous horse riders that use Circle Y saddles include Martha Josey, who won the 1980 World Barrel Racing Champion.
Products
The Circle Y saddle brand is renowned for its western saddles. This saddle making brand produces many different western saddles.
For example, you can buy a Circle Y saddle that is tailored for ranch work, roping, show, training, mounted shooting and more. You can also find Circle Y brand youth saddles.
However, the Circle Y saddle brand also makes other necessary products for western riding.
Some products include cinches, tie straps, headstalls, halters, collars, straps, reins, nosebands, curbs, spurs, fenders, pads and more.
One of the most distinctive features of Circle Y western saddles is their Flex-Lite tree technology. This new and one-of-a-kind Flex-Lite Tree allows Circle Y western saddles to fit more horses than any other saddle from any other brand.
Specialty
What I think makes the Circle Y saddle brand awesome is that they use high-quality material. Famous horse riders such as Martha Josey and Julie Goodnight only authorize Circle Y to design their saddles.
This ensures that their saddles are durable and will last for years, no matter how roughly they are used. I can testify that after multiple rough rides that I have taken with my Circle Y saddle, it's still holding up.
Best Western Saddle Brands #2 – Dakota Saddles
The Dakota saddle brand is an amazing brand for western saddles.
History
The Dakota saddle brand was started in Flat Rock, Alabama in 1987. The employees of the Dakota saddle brand have always used American made, high-quality materials for their saddles.
Products
The Dakota saddle brand makes stellar western saddles. In this saddle making brand, you will find a wide array of many western saddles.
The types include barrel racing, cutting, ranching, reining, roping, cutting, trail, show, and more. An interesting feature of Dakota saddles is that they have a ton of options regarding their western saddles. This includes the material, colour and more.
Specialty
If the Dakota saddle brand is loved for one thing by me, it would be their agreeable prices. I found my Dakota saddle at such a good price, I couldn't believe my eyes. This allowed me to buy other necessities so that I had all I needed to get riding.
Best Western Saddle Brands #3 – Big Horn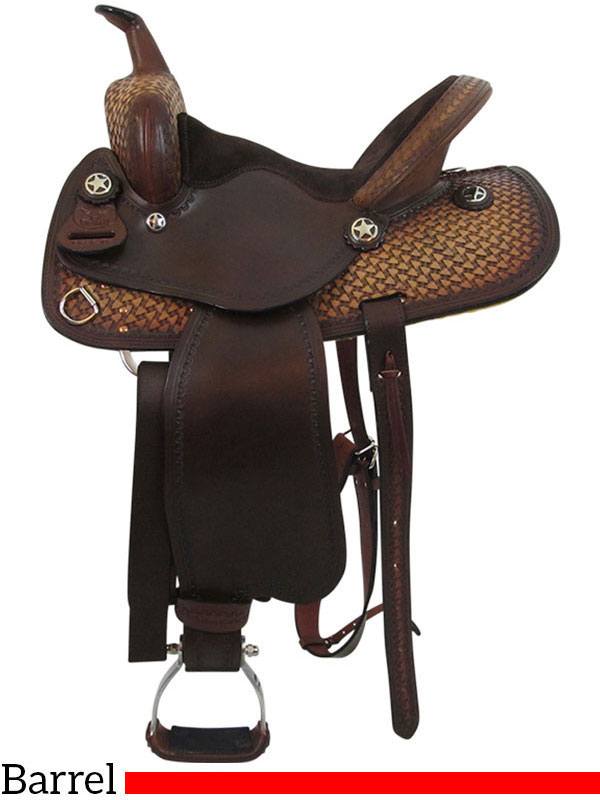 The Big Horn saddle brand made the top 5 western saddle brands. Why did they make the list? Read on.
History
The Big Horn saddle brand was started in Chattanooga, Tennessee in the 1960s. In 2008, this saddle company was purchased by the American Saddlery company. Even so, the Big Horn Saddle company still makes great western saddles.
Products
The Big Horn saddle company crafts gorgeous saddles. This saddle making brand rides out numerous western saddles. Some of their best include saddles for barrel racing, Cordura, reining, roping, show, trail and training.
Not only can you buy saddles from the Big Horn saddle company, but you can also buy products such as blankets, tacks, sheets, grooming supplies and more.
A downside to the Big Horn Saddle company is that they do not have their own website that you can directly purchase their products from. However, if you go on horsesaddleshop.com, you can purchase their exclusive haflinger saddles and all of their other types of saddles.
Haflinger saddles are hard to find on today's market and near impossible if you want one with a circular and short skirt that has the right amount of padding.
Specialty
My favourite thing about Big Horn saddles is that they look stunning. From the gleaming silver work to the beautiful leather, this saddle is fit for a rodeo queen and king!
Best Western Saddle Brands #4 – Reinsman Saddles
The Reinsman saddle brand made the top 5 of the best western saddle brands. Take a look why this is.
History
The history of the Reinsman saddle brand started in Cleveland, Tennessee in 1993. This saddle company was founded by childhood friends Glen Taylor and Bob Brandon. What started as a steel manufacturing project evolved into full-on saddle making by 1998.
In 2012, the Reinsman saddle company joined forces with the Circle Y company. This company is loved by many big-time horse riders such as 4-Time NFR Qualifier Barrel Racer Clinician Sharon Camarillo.
Products
You can find many interesting saddles from the Reinsman saddle brand. This includes their recent western specialty saddles. These western saddles include those for roping, reining, ranch work, cutting and barrel racing.
Also, you can purchase a variety of other horse riding accessories. These accessories include ties, straps, clinches, headstalls, reins, spurs, collars and nosebands.
Unlike many western saddle brands, it's incredibly easy for you to purchase a custom made saddle from the Reinsman company! You can choose everything from the colour to the conchos and even the seat material.
Specialty
When I was starting as a western horse rider, I had so many questions. You probably did as well. After all, the professional of anything was once a beginner.
This is where the Reinsman saddle company shines. From helpful blogs to considerate customer service, the Reinsman saddle company made me feel like a part of the family.
Best Western Saddle Brands #5 – Billy Cook
The Billy Cook saddle brand is one of the best western saddle brands around. Here's why…
History
The history of the Billy Cook saddle company stretches back to 1953 with the one and only, Billy Cook. After exiting the army, Billy Cook started to make saddles in Greenville Texas.
When his products grew in popularity, Billy Cook partnered with Potts-Longhorn from 1953 to 1988. After this, Billy Cook moved his company to Sulphur, Oklahoma. In the early 1990s, the Billy Cook company started to make a variety of horse riding equipment with their official American patent.
Products
The Billy Cook saddle company has an endless amount of products that you can choose from. First, let's talk about their western saddles. From roping, reining, cutting, ranching and trail, the billy Cook company makes many different western saddles.
On top of this, the Billy Cook company also makes lots of horse riding accessories. Some of their more practical products include the usual bridles, collars, nosebands, reins and saddlebags.
However, if you want to show your Billy Cook pride, you can get all decked out and sport their line of clothing! From T-shirts and hats, the Billy Cook company can make you and your horse look stylish.
All of their products contain their brand stamp, ensuring that you only receive a one of a kind Billy Cook product. After all, the best form of flattery is imitation, but you deserve the very best.
Specialty
I love the Billy Cook saddle company for numerous reasons but I think their specialty has to be their high-level convenience. For example, when I purchased my Billy Cook saddle, it was ready to go. To this day, it still fits my horse perfectly and is incredibly comfortable.
Conclusion
Here you go, 5 of the best western saddle brands. So which one will you choose? A high quality Circle Y saddle? A well priced Dakota saddle? An angelic Big Horn saddle?
A reinsman saddle that has been explained thoughtfully? Or a unique Billy Cook saddle? All of these western saddle brands have been on the top of the horse riding market for years due to their different reasons.
If you buy a saddle from one of these brands, you can rest assured that it will be one of the best choices that you have ever made.
Was this post helpful? Did you find what you were looking for? Perhaps one of my Circle Y reviews might help. I recently posted a review on Circle Y Julie Goodnight Wind River saddle. Check it out.