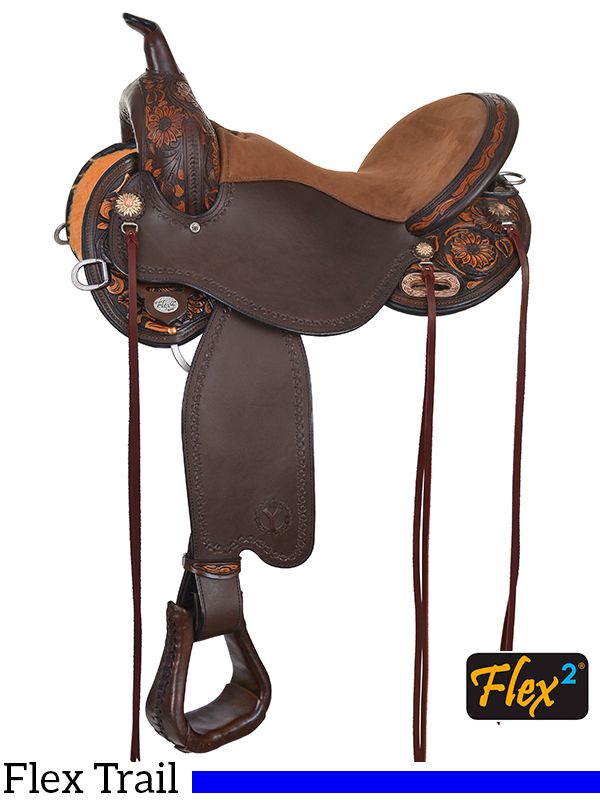 Hi there trail riding enthusiasts! Today, I'll be reviewing the Circle Y Sunflower Flex2 Trail Saddle. At the end of this post, I want you to let me know in the comments if my post was helpful to you. Deal? Great.
So, let me ask you: Did you ever ride all day, only to discover, to your dismay, that even dismounting hurt? Trail riding is one of the most fun things a rider can do. But if you're sitting on the wrong saddle, you'll pay for it later.
Comfort You Need and Want
No one likes a sore butt. Or an aching back. Unfortunately, that's what you can end up with if your saddle is uncomfortable or ill-fitting. No two trails are alike. The same can be said for horse saddles. While some saddles are gorgeous to look at and may be perfect for the show ring, they probably aren't what you'd want to use on a trail ride.
On the trail, it's all about comfort and safety. If the saddle looks good, that's a bonus. Your first concern should be a comfortable, safe saddle that fits you and your horse. Both horse and rider can enjoy the ride when the saddle fits and is comfortable.
You might think it isn't possible to find a great saddle that you can sit in all day, dismount, and feel great after the ride. But you'd be wrong.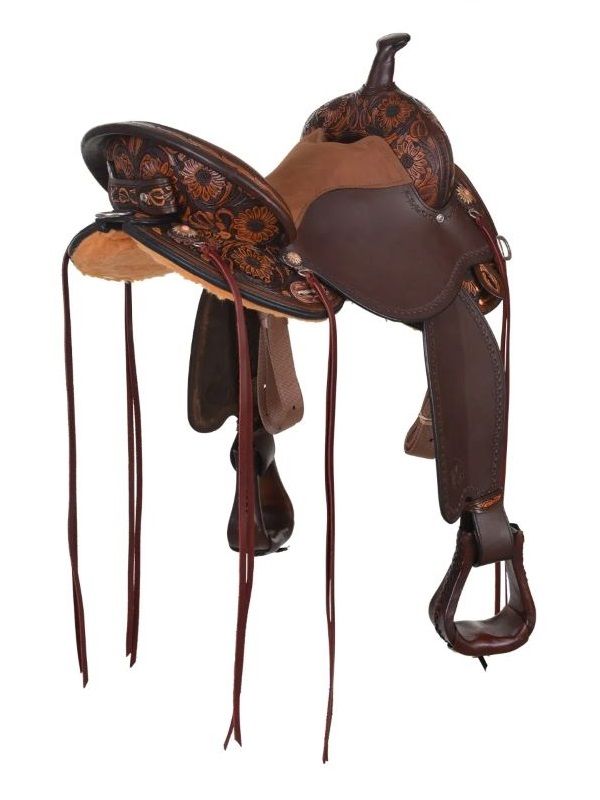 The Circle Y Sunflower Flex2 Trail Saddle was designed with comfort for horse and rider in mind. It's understandable that buying a saddle online can seem intimidating, but it doesn't have to be. Because this saddle promises a lot and delivers it all.
And it's beautiful.
Impact Foam Seating: No More Sore Butt
The Circle Y Sunflower Flex2 Trail Saddle will stand out on the trail with lovely sunflower hand tooling and brass sunflower hardware. It also has nice rounded skirts. When your saddle pals see this saddle, they'll want to know where you bought it.
But looks aside, comfort is what makes this saddle so great. The seat is made of impact foam. And it offers comfort that is unmatched. It's engineered to give maximum cushion and doesn't wear down quickly.
It's everything you need for a comfortable all-day ride.
Flex2 Tunnel Skirt: No Pressure on the Horse's Spine
You won't be the only one who loves this saddle. Your horse will too. The Flex2 Tunnel Skirt forms a channel in the horse's spine area. This decreases rubbing, pressure, and sore spots. It also lets hot air out and cool air in.
Softee Full-Grain Leather for that Broken-in Feeling
And if you hate breaking in a new saddle, this one has a nice surprise. The Softee full-grain leather already has a broken-in feel. Right out of the box, the seat jockeys and fenders are comfortable and ready to go.
Neo-Shock Skirt: Absorbs Shocks on Rough Terrain
Additionally, the Neo-Shock skirt absorbs the shocks that come from riding over rough and uneven terrain through neoprene filler. It's designed to muffle vibrations for a ride you and your horse will appreciate. It even conforms to your horse's conformation.
3-Way Adjustable Rigging
The Circle Y Sunflower Flex2 Trail Saddle also has 3-way adjustable in-skirt rigging which gives you several options for rigging. This lets you get the best fit for your horse.
Lots of Saddle for the Cost – Let's Look at the Savings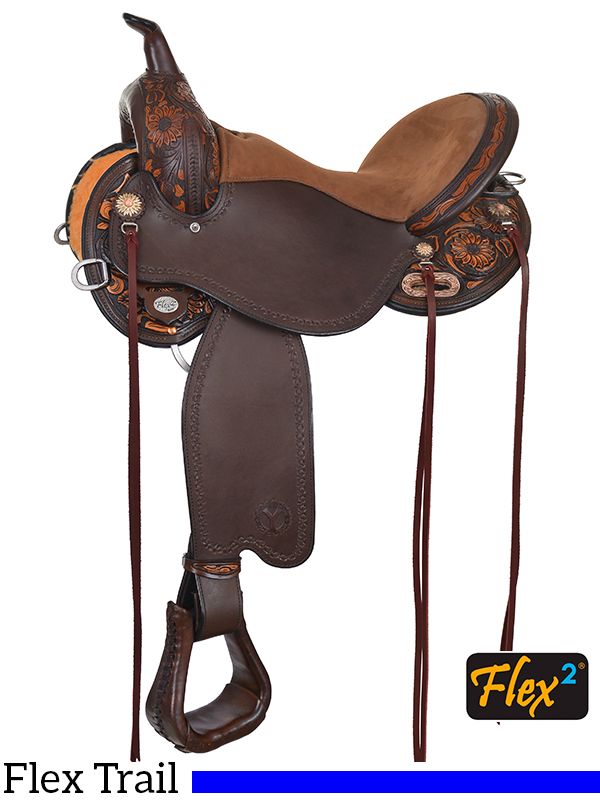 Specifications
Color: Chocolate or Vintage
Tree: Flex2 Trail 5 Regular and Wide
Hardware: Brass Sunflower
Tooling: 1/2 Sunflower with border hand tooled
Rigging: 7/8 In-Skirt C
Swell Width: 12″
Cantle Height: 5″
Horn Size: 3-1/4″ Neck, 1-7/8″ Cap
Skirt: 11″ D x 24″ L
Weight: 23 lbs
Our Circle Y Sunflower Flex2 Trail Saddle only weighs 23 pounds.
The less weight a horse has to carry, the better he'll handle a long ride. You'll be happy too when the ride is over because you won't have a sore back, knees, or backside. No one likes ending the day doing something they love with aches and pains.
Luckily for you, with this saddle, you don't have to.
Now, you can ride all day over the toughest trails, up and down hills, and everywhere else, and still have a great ride! The Circle Y Sunflower Flex2 Trail Saddle makes every trail ride a memorable adventure.
If you love trail riding and want a great saddle for you and your trail buddy, it's hard to go wrong with this saddle. And if you're looking for a new saddle that's comfortable and great looking, the Circle Y Sunflower Flex2 Trail Saddle just might be the saddle for you.
My Final Thoughts on the
Circle Y Sunflower Flex2 Trail Saddle
You can ride long hours over tough trails and come out unscathed. Our Circle Y Sunflower Flex2 Trail Saddle makes it possible. This is a great option for anyone who loves riding the trails from dust to dawn, or just a couple of hours at a time. It's pretty hard to go wrong with this saddle.
Did you find my review helpful? I've written reviews on other trail saddles on this site. Check out my review on the Circle Y Omaha Flex2 Trail Saddle.