Western trail saddles. They're designed to keep you and your horse comfortable over miles on the trail.  So how do you choose one?  Looking for the best lightweight Western trail saddles on the market can sometimes be difficult.
What should you look for? What kind of material should they be made from?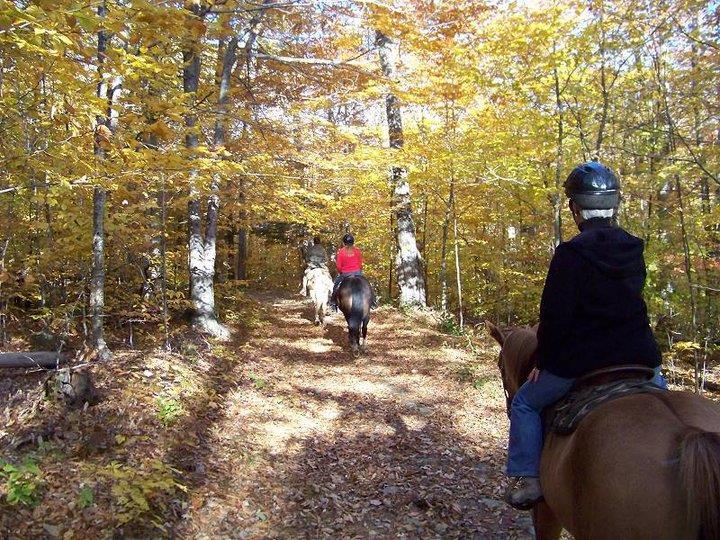 I've decided to make the task a little easier for you by listing a few of (in my humble opinion) some of the best lightweight Western trail saddles on the market, and what you should look for in a trail saddle.
Why Is Fit So Important?
Initially, you'll look for the quality of materials in a trail saddle. You'll also focus on design in your initial considerations. Once you've zeroed in on a few models, you'll focus on fit.
Fit is important because the more time you spend in a saddle, the more good fit becomes a critical factor. How so?
Here's how.
While a minor imperfection in an arena saddle may have zero (or very minor) consequences because you're only going to be sitting in the saddle for an hour, that same imperfection can cause significant soreness for both you and your horse after riding all day on a trail over various terrain.
So What's The Solution?
Fortunately, quite a few saddleries have and continue to cater to the needs of trail riders.  Horse saddle manufacturers such as Abetta, Cashel and Circle Y (and a whole host of other manufacturers) are stepping up to the plate, offering many options for lightweight Western trail saddles.
That being said, I have to say when looking for some of the best lightweight Western saddles, "lightweight" is relative.
Considering some Western saddles can weigh up to 60 pounds, a saddle that weighs between 17 and 25 pounds is definitely considered lightweight.
So let's start with one of my favorites – Abetta Saddles.
Abetta Sublime Super Cushion Trail Saddle 20500
Abetta uses Ralide tree in this particular trail saddle. Ralide is a mold-injected polyethylene.  Polyethylene is a tough, light, flexible synthetic resin. It's used for making food containers, plastic bags and other kinds of packaging that require durability.
Is a Molded Tree Good?
What's great about using a molded tree is that each saddle comes out perfectly. And when you sew the parts on to cover the mold, it fits like a glove – always.
Abetta makes trees to shape many breeds, including draft and gaited horses.
What Materials Are Used?
The outer shell of the Abetta Sublime Super Cushion Trail Saddle 20500 is made with tough, scratch resistant, 1000-denier nylon, which is laminated to shock absorbing Super Cushion Memory Foam for a comfortable seat.
The foam and denier nylon are water resistant.
Special Features
Shock absorbing foam for a comfortable ride. Built on Ralide Tree (which makes it super lightweight), with 7/8 position, leather reinforced half-breed rigging stainless steel hardware.
Weight: 17 pounds
Price: $517.95
Let's take a look at my next pick for a lightweight Western saddle trail, which is a bit more expensive.
Now keep in mind, just as cheap doesn't always mean poor quality, expensive doesn't necessarily mean it will be a good fit for you and your horse.
But I think The Cashel Lite Trail Saddle CLT is an exception.
Cashel Lite Trail Saddle CLT

If you're searching for the perfect mix of efficiency and ease, you'll find it in the Cashel Lite Trail Saddle CLT.   This Lite Trail saddle gives the perfect blend of tactical riding features without breaking yours (or your horse's) back with excessive weight.
What Materials Are Used?
The trees used at Cashel are wooden and handmade, one by one – not mass produced. The saddles are then carefully dried to avoid warping. Then fiberglass is used to finish the saddle for extra strength to prevent future warping.
As wood is heavier than plastic, that means it's slightly heavier.
Special Features:
As you know, riding trails vary. If you're riding over rocky terrain, the rough-out seat jockey and fenders provide extra grip for this sort of advanced trail riding.
And the cantle keeps you locked on the correct, as well as comfortable, riding position.
This light saddle comes with lots of strings for all your trail riding needs. The breast collar and flank strap are included. Cashel exclusively offers a cool skirt padding design as well.
Weight: 19-20 pounds
Price: $1,088.99
Lastly, we have the Circle Y Pioneer Flex2 Trail Saddle 1665, which is chock full of benefits for the horse and the rider (but especially the horse) so I'm super excited about this saddle.
Circle Y Pioneer Flex2 Trail Saddle 1665

This saddle has lots of beneficial features for both rider and horse. First, there's comfort for the rider. The saddle has an impact foam seat, known for one of the best seats you can find in the industry, which your butt will be thankful for after a long trail ride.
This saddle also has a close contact cut skirt, which makes for a great arena/trail saddle combo for all-around type pleasure work.
Ergonomic Stirrups
The stirrups are EBS stirrups. That means the cone bar helps tip the stirrup so it's in a more ergonomic position for your foot, which you'll notice that at the end of a long ride.
Now, what about comfort for the horse?
This saddle has a Neo Shock Skirt filler in which they take neoprene and fill the skirts underneath the leather, so it reduces shock on impact.
In addition to the neo shock feature, the horse has tunnel skirting.
A lot of saddles are closed off in the back. But with this saddle, you can look in the front of the saddle straight to the back. This feature allows more airflow and keeps your horse cooler.
Fits All Horse Sizes
This awesome saddle comes with a shorter skirt and comes in medium wide and extra wide flex2 tree, so you can get a fit for any horse. That means that if you have a high withered horse, mutton withered horse, or short back horse, this saddle will fit them.
What Materials Are Used?
This Circly Y saddle tree is coated with DURAhide to ensure that it stays strong and resistant to the elements.
Special Features
This saddle features Circle Y's latest technology of high density and low-density bars. This ensures that the saddle conforms to your horse's back, even while in motion.
Another special feature of this saddle is the Neo Shockprene, which reduces shock on impact, and tunnel skirting.
How does it work?
Here's how it works. There are 2 layers. The high-density portion above gives support under the rider's seat, while the low-density bar, which is next the horse's back, is more flexible.
The tree in the middle is rigid, but its outer edges flex whenever the horse moves.
ErgoBalance Stirrups
The stirrups are EBS (ErgoBalance Stirrups), which means the stirrups give a more ergonomic position for your foot.
Softee leathers ready to go out the box (which are 2 softer pieces of leather that have been stitched together. It comes in sizes that fit all horses.
Weight: 25 pounds
Price: $1,875.00
And The Winner Is…
So, which are the best lightweight Western trail saddles?
Well, out of all of the saddles I featured in this article, I think the best lightweight Western saddle is the Circle Y Pioneer Flex2 Trail Saddle 1665
Why?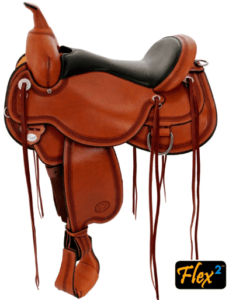 While the other 2 lightweight trail saddles I mentioned weigh in at 17 and 18 pounds, the Circle Y Pioneer Flex2 Trail Saddle 1665, even though it weighs in at 25 pounds, has a lot more features that are comfortable for both rider and horse.
The fact that Circle Y places emphasis on the horse's comfort in this saddle is what sold me on this saddle.
I definitely wouldn't mind 8 more pounds on a saddle if I had the reassurance that the saddle can:
• Fit any horse type
• Assure me that my feet wouldn't be sore
• Allow the horse's back to breathe
• Conform to the horse's back when moving
• Resist to all elements
I hope you enjoyed my take on the best lightweight Western saddles.
Was this post was helpful to you?  Do you have any questions about lightweight saddles? Please leave your questions and comments below!