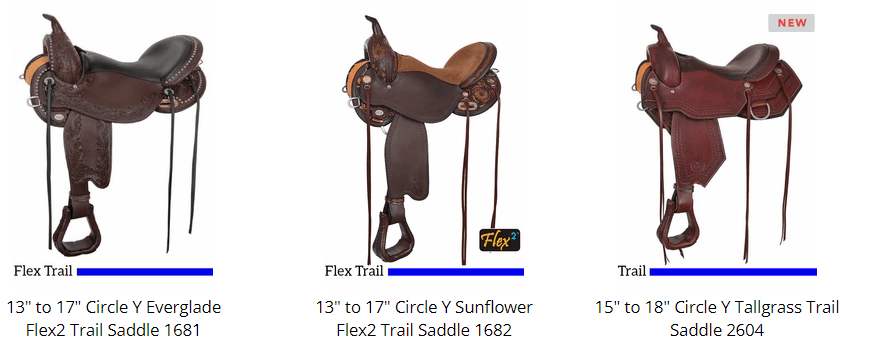 Trail riding season. Looking for the best lightweight western trail saddles on the market? Look no further. We've got a sale going on here! The ideal trail saddle is supposed to be designed to keep you and your horse comfortable over miles on the trail.
But hey, not all trail saddles are made alike.
Some trail saddles provide comfort for the rider, while the horse suffers. And other trail saddles, are designed for the horse's comfort, but not the rider's. So how do you choose one? Looking for the best lightweight Western trail saddles on the market can be downright frightening.
Let's face it. Saddles are expensive. You don't have the luxury of buying the wrong size or type. What should you look for? What kind of material should they be made from?
I've decided to make the task a little easier for you by listing my top 5 (in my humble opinion) best lightweight Western trail saddles on the market, and what you should look for in a trail saddle. I'll also post a few other lightweight trail saddles by Circle Y.
Specifications
Comes in seat sizes 15″, 15.5″, 16″, 16.5″, 17″
On a Bull Hide Covered Tree
6 3/4″ Gullet And Full Quarter Horse Bars
Hand Tooled Corner Basket Chocolate Color
Double C plate Rigged
Flank Set Pre Turned Stirrups All Smooth Fender And Jockey
Padded Grain Out Chocolate Seat
Leather Horn
Strings and Rings Slotted Berry RCS Conchos
Nylon Off Billet
Tie Strap
Initially, you'll look for high quality materials in a trail saddle. The foundation of the saddle is the tree. bull hide covered tree is the strongest in my opinion. Like the saddle above. They tend to last a lifetime. So, if you can by a bull hide covered saddle, go for it!
You'll also focus on the design of your saddle during your initial considerations. Once you've zeroed in on a few models, you'll focus on fit.
Fit is important because the more time you spend in a saddle, the more good fit becomes a critical factor. How?
Specifications
Seat: 15.5″ 16.5″ 17.5″ 18.5″
Tree: Medium, Wide, Extra Wide
Color: Brown, Black (both come with a black seat)
Cantle: 4″
Swell: 13″
Skirt: 24″ Full or Round
Fenders: Trail or Western fenders
Hardware: Chrome with engraved Tucker logo conchos and rings
Rigging: In-Skirt Western – Single Front Dee (straight rear dee), Enduro Balanced Single Tie (angled rear dee), Enduro Balanced Double Tie (angled rear dee)
Weight: Approx 31 lbs
Here's how.
While a minor imperfection in an arena saddle may have zero (or very minor) consequences because you're only going to be sitting in the saddle for an hour, that same imperfection can cause significant soreness for both you and your horse after riding all day on a trail over various terrain.
So What's The Solution?
Fortunately, quite a few saddleries have and continue to cater to the needs of trail riders. Horse saddle manufacturers such as Abetta, Cashel and Circle Y (and a whole host of other manufacturers) are stepping up to the plate, offering many options for lightweight Western trail saddles.
That being said, I have to say when looking for some of the best lightweight Western saddles, "lightweight" is relative.
Considering some Western saddles can weigh up to 60 pounds, a saddle that weighs between 17 and 30 pounds is definitely considered lightweight.
Specifications
Seat: Apache Brown or Black
Tree: Flex2 SS Trail Regular and Wide
Tooling: 1/2 Spider with Camo Border Hand Tooled
Hardware:Antique Patina Flower with Alternating Copper and Nickle Spots
Rigging: 3-Way Adjustable In-Skirt
Swell Width: 14″
Cantle Height: 5″
Horn Size: 3″ Neck, 2-1/2″ Cap
Skirt: 15″ D x 26.5″ L
Weight: 30 lbs
Special Features
The Flex2 tree has a rigid ground seat with a dual bar system that provides both stability and flexibility where it's needed. This tree is available for riders of all sizes and has proven over time to fit a large variety of horses.
Tired of a sore butt after a days riding? The impact foam seat offers you unmatched comfort in the saddle. Engineered to offer maximum cushion without wearing down quickly, this seat is everything you've been looking for to get you through the trail.
3-Way adjustable in-skirt rigging with several rigging options and positions to best suit fitting all of the different horse conformations.
Annoyed with the break-in period of your new saddle? No more! Softee Leather is revolutionary. Real full-grain leather with a broken in feel. Softee seat jockeys and fenders are ready to ride right out of the box.
The Flex2 Tunnel Skirt creates a channel in the spine area which will decrease rubbing, sore spots and any kind of pressure along the spine. The tunnel allows for hot air to escape while cool air flows in.
The Neo-Shock skirt absorbs shock from rough terrain and uneven surfaces through the neoprene filler. This filler is designed to muffle any vibration for a smoother ride for both you and your horse. This skirt also conforms to the conformation of your horse.
EBS (ErgoBalance Stirrups) tilt the stirrup to eliminate torque on the riders knees and ankles. No more sore joints after your ride! This will provide you increased comfort while promoting balanced riding.
Now, let's take a look at my next pick for a lightweight Western saddle trail, which is a bit more expensive.
Keep in mind, just as cheap doesn't always mean poor quality, expensive doesn't necessarily mean it will be a good fit for you and your horse.
But I think The Cashel Lite Trail Saddle CLT is an exception.
Specifications
Tree: Fiberglass covered wood tree, Reg QH
Seat Size: 14″, 15″
Cantle: 3.5″
Horn 2″ with 2″ horn cap
Skirt Length: 14″ Seat – 22″; 15″ seat – 23″; 16″ seat – 24″ (approx)
Skirt Lining: Cotton PolyBlend
Weight: Approx 19-20 lbs
If you're searching for the perfect mix of efficiency and ease, you'll find it in the Cashel Lite Trail Saddle CLT. This Lite Trail saddle gives the perfect blend of tactical riding features without breaking yours (or your horse's) back with excessive weight.
What Materials Are Used?
The trees used at Cashel are wooden and handmade, one by one – not mass produced. The saddles are then carefully dried to avoid warping. Then fiberglass is used to finish the saddle for extra strength to prevent future warping.
Special Features:
As you know, riding trails vary. If you're riding over rocky terrain, the rough-out seat jockey and fenders provide extra grip for this sort of advanced trail riding.
And the cantle keeps you locked on the correct, as well as comfortable, riding position.
This light saddle comes with lots of strings for all your trail riding needs. The breast collar and flank strap are included. Cashel exclusively offers a cool skirt padding design as well.
Specifications
Seat Size: 14″, 15″, 16″, 17″, 18″
Color: Walnut, Regular Oil
Tooling: Border
Tree: Flex2 Trail Regular, Wide, or Extra Wide
Hardware: Frosted Rope Edge
Rigging: 3-way adjustable inskirt
Swell Width: 13″
Cantle Height: 4″
Horn Size: 3-1/4″ Neck 1-7/8″ Cap
Skirt Size: 15″ x 26″
Weight: Approximately 25 lbs.
Lastly, we have the Circle Y Pioneer Flex2 Trail Saddle 1665, which is chock full of benefits for the horse and the rider (but especially the horse) so I'm super excited about this saddle.
This saddle has lots of beneficial features for both rider and horse. First, there's comfort for the rider. The saddle has an impact foam seat, known for one of the best seats you can find in the industry, which your butt will be thankful for after a long trail ride.
The Circle y Pioneer Flex2 Trail saddle also has a close contact cut skirt, which makes for a great arena/trail saddle combo for all-around type pleasure work. 
Ergonomic Stirrups
The stirrups are EBS stirrups. That means the cone bar helps tip the stirrup so it's in a more ergonomic position for your foot, which you'll notice that at the end of a long ride.
Now, what about comfort for the horse?
Guess what other great feature this saddle includes? It includes a Neo Shock Skirt filler in which they take neoprene and fill the skirts underneath the leather, so it reduces shock on impact.
In addition to the neo shock feature, the horse has tunnel skirting.
A lot of saddles are closed off in the back. But with this saddle, you can look in the front of the saddle straight to the back. This feature allows more airflow and keeps your horse cooler.
Fits All Horse Sizes
What kind of skirt does it come with? This awesome saddle comes with a shorter skirt and comes in medium wide and extra wide flex2 tree, so you can get a fit for any horse. That means that if you have a high withered horse, mutton withered horse, or short back horse, this saddle will fit them.

What Materials Are Used?
Circle Y saddle tree is coated with DURAhide to ensure that it stays strong and resistant to the elements.
Special Features
You know Circle Y is known for keeping up with the latest technology, right? Well, this saddle features Circle Y's latest technology of high density and low-density bars. High density and low density bars ensure that the saddle conforms to your horse's back, even while in motion.
Another special feature of this saddle is the Neo Shockprene, which reduces shock on impact, and tunnel skirting.
How does it work?
Here's how it works. There are 2 layers. The high-density portion above gives support under the rider's seat, while the low-density bar, which is next the horse's back, is more flexible.
The tree in the middle is rigid, but its outer edges flex whenever the horse moves.
ErgoBalance Stirrups
The stirrups are EBS (ErgoBalance Stirrups), which means the stirrups give a more ergonomic position for your foot.
Softee leathers ready to go out the box (which are 2 softer pieces of leather that have been stitched together. It comes in sizes that fit all horses.
Best Lightweight Western Trail Saddles – And The Winner Is…
So, which are the best lightweight Western trail saddles?
Well, out of all of the saddles I featured in this article, I think the best lightweight Western saddle is the Circle Y Pioneer Flex2 Trail Saddle 1665
Why?
While I love the other 4 saddles I mentioned above, the Circle Y Pioneer Flex2 Trail Saddle 1665, even though it weighs in at 25 pounds, has a lot more features that are comfortable for both rider and horse.
The fact that Circle Y places emphasis on the horse's comfort in this saddle is what sold me.
I definitely wouldn't mind 8 more pounds on a saddle if I had the reassurance that the saddle can:
• Fit any horse type
• Assure me that my feet wouldn't be sore
• Allow the horse's back to breathe
• Conform to the horse's back when moving
• Resist to all elements
I hope you enjoyed my take on the best lightweight Western saddles.
Was this post was helpful to you? Would you like to see more reviews on trail saddles? Read my post, "T60 High Plains Saddle Review – Lightweight, Comfortable for Weekend Riders". Or, maybe you're on a budget and want to try used saddles? Please leave your questions and comments below!