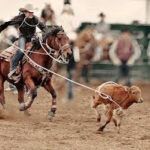 Before I get into my Dakota Roping saddle review, I'd like to ask you a question.  How would you like to shave seconds off your time, take home more jackpots, and win the World Series of Team Roping?
If you're reading this, it's because you love competing in team roping (or individual roping) professionally or recreationally. You've decided it's time to invest in a really good saddle because you know the right saddle is key to your horse's performance and your ability to rope your calf in 6.3 seconds.
You're familiar with the Dakota brand because you've heard great things about the company.   So, you typed "Dakota Roping Saddle Review" in the Google search engine because you want to read a well-written Dakota roping saddle review before deciding if it's worth plunking down your hard-earned cash.
I don't blame you.
Equestrian sports are expensive.  And because I want you to be well-informed before making such a big decision, I want to give you a review of 3 different Dakota roping saddles….
Then you can decide for yourself.
Dakota Roping Saddle – The Dakota Saddle Company
The Dakota saddlery is well respected in the horse saddle industry due to their high standards.  Dakota uses high-quality trees and materials and is never afraid to use new technology to enhance their saddles' comfort and durability.
Dakota knows the importance of a high-quality, well-fitting saddle.  In fact, you may not know this, but so much of a horse's performance problems are due to back pain because of poor-fitting saddles.
Poor Saddle Fit = Poor Horse Performance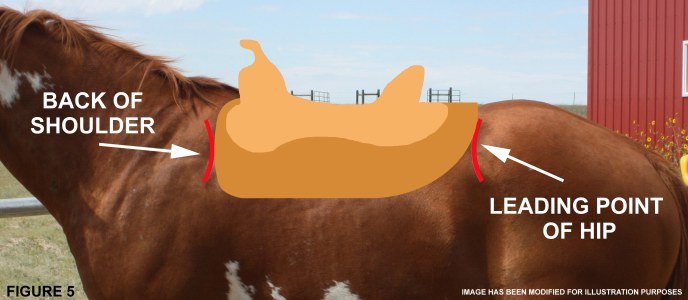 For sports activities like team roping, proper saddle fit is crucial to horse comfort and performance (and yours).  Without proper saddle fit, it doesn't matter how high quality the saddle is, your horse will have performance problems that will keep you from roping your calf in record time.
Take a look at the host of performance problems your horse can have because of a poorly-fitted saddle:
Front/Hind Leg Lameness, Stumbling and Tripping
Sudden, decreased speed during timed sports
Ducking out of turns or turning wide
Excessive shying or lack of concentration on rider aids
Inability to travel straight
Slow to warm up or relax
Cold-back during mounting
Reluctance to stride out
Unwilling or unable to round the back or neck
Faltering or resisting when making a transition
A lot of horse riders tend to think their horse has a "bad attitude" when they exhibit these problems.  They don't know that 99% of the time it's because the horse's back is in pain.  So, the horse either can't comply or doesn't want to.
A good saddle starts with the tree.  And the materials with which your saddle tree is made can make or break its quality.
 Dakota Roping Saddle – What Kind of Saddle Tree is Best?
 The saddle tree of a roping saddle should be made of high-quality wood and either covered in rawhide or fiberglass. The roping saddle should have plenty of flare in order to keep the horse's shoulders free.
Some saddles are made from plastic.  I don't recommend it because plastic turns brittle after a while, and you'll end up having to buy a new saddle. In addition to the right materials being used for a saddle tree, the saddle tree needs to be placed correctly on the horse's back.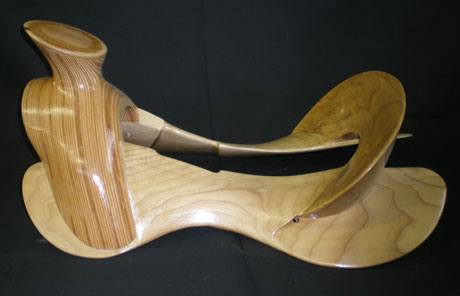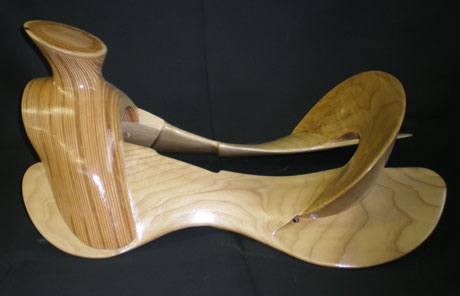 Correct Saddle Tree Placement
Many riders mistakenly place the horse saddle in the wrong position.  If the saddle tree is placed too far forward.  So, when the rope tightens on the horn, the saddle is yanked down hard, and it jams into the horse's shoulder.
This is especially true for roping horses.  With the roping horse, the saddle must be placed behind the horse's shoulder blade and then use the breast collar to stabilize it.
The Secret to Perfect Saddle Fit
There's no industry-wide accepted and utilized standard for saddle tree fit. Dakota saddles have found the solution to hard-to-fit horses and horses that change shape frequently.
Many Dakota roping saddles are using Steele Equi-Fit saddle tree, which use what's called Fit to Be Seen (FTBS), the Equi-Fit saddle tree fit identification and demonstration system.
What the heck is FTBS?
In a nutshell, FTBS has what's called 9 fit molding forms.  These molding forms are made out of fiberglass, which are exact replicas of 9 of the most widely used fits in their Equi-Fit saddle tree line.
So, when a mold is placed on a horse's back, the fit forms allow you to literally see how the tree will fit the horse's back without being obstructed by saddle skirts, rigging, and stirrups.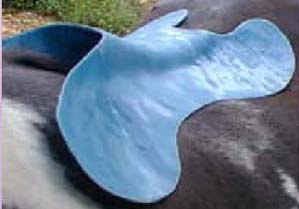 That means you're getting a more accurate saddle fit for your horse – as opposed to a one-size-fits-all mass manufactured saddle.  An accurate saddle fit means that when you're competing, you'll be able to communicate with your horse, and he'll listen because he's not in pain.
And now, I'm going review 3 of what I think are some of Dakota's best roping saddles based on the saddles' functionality for the sport of team roping.
Dakota Roping Saddle Review #1
15″ to 17″ Dakota Penning Roping Saddle 9555
I like the Dakota Penning Roping Saddle 955. It's strong, beautifully custom made and has all the features needed for a safe and sturdy saddle.  And while it's strong enough for rodeo events like penning and roping, it's lightweight enough so that your horse can perform very well.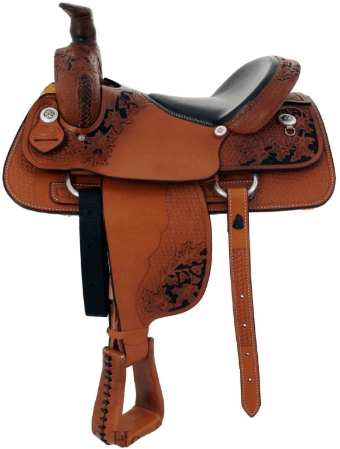 Here are the specs:
Built on Fiberglass covered trees
Full quarter horse bars
The seat is a 16" bicycle seat
Double Stainless Steel Rigging (won't rust) Close Contact in-skirt 7/8 position
5-Year Warranty
Material – It's made from spot carve maple leaf with black inlay Montana Silversmith Conchos
Weight – 35 pounds
Pros:
The fiberglass makes this a very strong tree.
Bicycle seat is padded and comfortable
Includes a connector strap to secure the flank to the front cinch, which means the saddle will be stable
Aesthetically pleasing
5-Year Warranty
Cons:
I don't think this is really a "con", but I tend to favor rawhide covered trees as they last longer.  But Fiber-glass covered trees are very strong and extremely durable too.  Besides, this saddle has a 5-year warranty.
Dakota Roping Saddle Review #2
15″ to 17″ Dakota Ranch and Calf Roping Saddle 206
I love the Dakota Ranch and Calf Roping Saddle 206 because of the most important feature.  The saddle is built on Equi-Fit saddle tree, which uses what's called, Fit to Be Seen (FTBS). I explained what FTBS is in an earlier paragraph.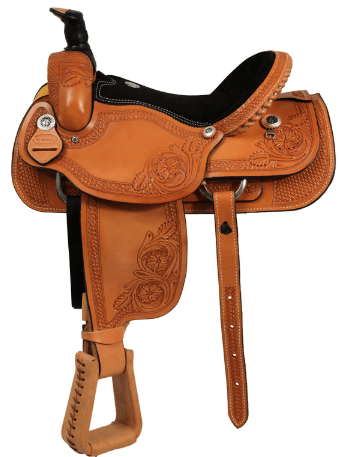 Here are the Specs:
Tree – It's a wide tree built on Steele Equi-Fit tree covered in fiberglass
Horn – The horn is standard post 3-3/4″ High 2-1/4″ Cap
Skirt Length is 27 inches
Double Rigging with Stainless Steel Dees 7/8″ Position
Cantle is 4″ High
Color – Silver Montana Silversmiths with black inlay
Beautiful Tooling – Mini basket weave with floral accents
Stirrups are made of leather 3 inches with Blevins Buckles
Weighs approximately 38 pounds
Full

flank set is included – Dakota's flank sets include the connector strap to secure the flank to the front cinch.
Pros:
American made
Built on Steele's Equi-Fit tree, allows for an almost guarantee of an accurate saddle fit, strengthened with fiberglass and reinforced at the horn and swell.
The horn is attached with double reinforcement for the safety of the rider
Double rigging so the saddle won't flip up in the back while dallying cattle to the horn
Comes with entire flank set
5-year warranty
Very Affordable
Looks great
Deep hand tooling
Cons: 
Weighs 38 pounds, which is not really a "con" because there are saddles that weigh up to 60 pounds. So this is considered lightweight.
Dakota Roping Saddle Review #3
Dakota Roughout Roping Saddle 502
The Dakota Roughout Roping Saddle 502 is a high-quality saddle. It's specifically made for horses with a wide, muscular build.  It uses full quarter horse bars.  The gullet width and height are such that there's enough clearance for the horse's withers.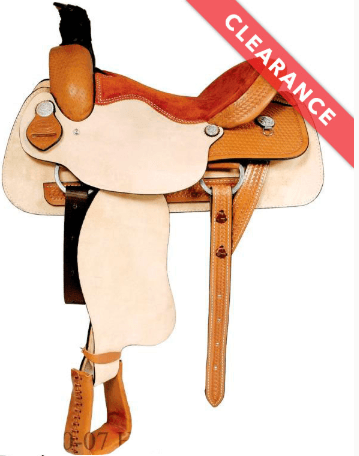 See, in roping, when the horse gallops at high speeds to chase the calf then suddenly stops when the rope tightens, it places an extreme amount of force on the horse's withers.
That's why it's so important that the gullet on a roping saddle clear the horse's spine completely.  A too low gullet would hit the horse's withers, causing extreme pain during riding.
Here are the specs:
The tree is made with Steele Equi-Fit
Fiberglass Covered
FQH Bars (Wide)
Horn: Standard Post 3-3/4″ High 2-1/4″ Cap
Skirt Length: 26″
Double Rigging, Stainless Steel Dees (won't rust) 7/8″ Position
Cantle: 4″ with Cheyenne Roll
Stirrup Leathers: 3″ with Blevins Buckles
Weighs approximately 38 pounds
5 Year Warranty 
Pros:
Since FTBS is used, you can be sure that the bars will accurately sit over your horse's back and the weight of the rider will be evenly distributed over the horse's back
FQHB means good gullet width and height clearance for withers
Cheyenne Roll provides handy grip which helps keep your rear in the saddle at the canter
Double rigging, which means the saddle will be extra stable
Dees are stainless steel, which means they won't rust
5-year warranty
Cons:
My Dakota Saddle Review Conclusion
I hope my Dakota Saddle review was helpful.  I know I've only reviewed just a few of Dakota Roping Saddles, but I picked the ones that I thought had the best technology and features essential to helping you stay secure in your saddle, provide maximum comfort for your horse, shave seconds off your time, and help you win more roping events.  Maybe you're more in barrel racing? Check out our Martha Josey Saddle sale.
If you want to see a full collection of Dakota's Roping saddles, click here.