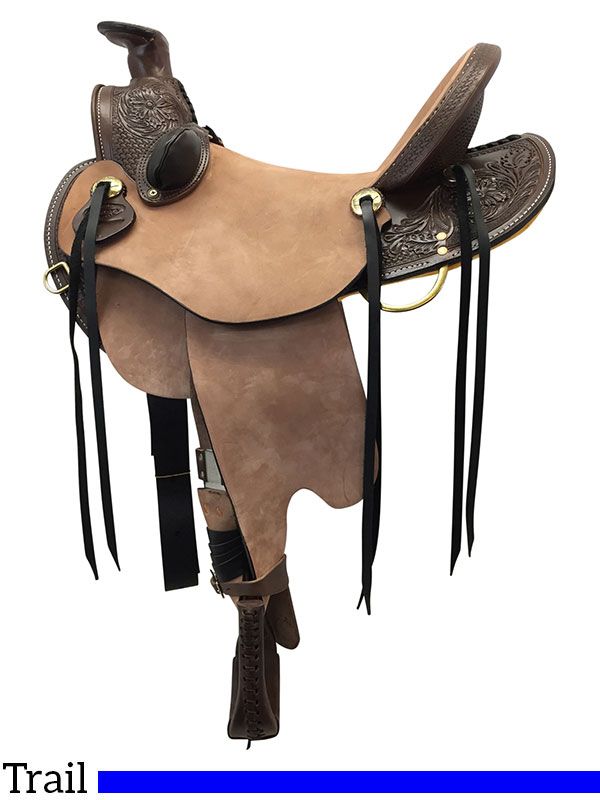 If you've been on the hunt for a lightweight western saddle sale, this event might be what you've been waiting for. Love trail riding, but wish you had a saddle where you felt a little more secure in the seat, or maybe you need a saddle that fits your wide-withered horse better? You're not alone.
Don't despair. I have a solution for you.
Safety During Your Trail Rides
The saddle I have in mind will make treks up one hill and down another safe and secure. Riders love this saddle. And so do their trail partners. It's no secret that your saddle is the most important piece of equipment you'll buy for you and your horse. And there's a good reason for that.
A Saddle Can Make Or Break Your Riding Experience
Your saddle will make or break your ability to enjoy riding. For you, it's a matter of safety and comfort. For your horse, it's a matter of comfort, health, and well-being.
The Right Saddle Prevents Saddle Wounds
An ill-fitting saddle can cause wounds and pressure pain, which will put your horse out of commission. It can lead to hair-coat blemishes if a saddle wound results in the hair being lost. If you've ever seen a horse with a dark coat and white patches of hair on the wither or shoulder area, that horse is a victim of a bad-fitting saddle.
The white hair is as a result of the hair being worn away. Sometimes there's even an open sore from the saddle rubbing.
Your Horse Picks Up on Your Nervous Vibes
A saddle that doesn't feel secure can ruin your ride. When you don't feel secure in the seat, you feel nervous. And when that happens, your horse will pick up your vibes. So, he'll be nervous too. It's a bad situation all around.
But it doesn't have to be that way. There are great saddles that can make riding the experience it should be. Every rider needs a safe, secure, and well-fitting saddle for the best ride possible. It's even better when you can find a saddle that's lightweight. When your saddle looks great, that's a bonus. Introducing, the Dakota Lite Wade Trail Saddle.
Specifications
Tree: Steele Equi-fit wooden tree, Full-QH bars with 5 year warranty
Seat Size: 15″, 16″ or 17″ (17″ extra charge)
Cantle: 5″
Horn: Wood post roper 3 3/4″ high, 3 1/4″ cap
Rigging: Brass In-skirt in 7/8 position
Skirt: 26″
Stirrups Leathers: 2 1/2″ Pre-turned and wrapped
Color: Pro brown (other colors available, contact us for availability)
Weight: Approximately 29 lbs
The Dakota Lite Wade Trail Saddle is a trail rider's dream if security is your goal and your horse has a wide build. Terrified of slipping out of your seat? This saddle has a deep seat and bucking rolls for extra security. It also has a roughout seat and fenders for a little extra grip. Plus, it has a five-inch cantle.
Nothing Like That Broken-In Feeling
One of the features you'll appreciate is the turned and wrapped stirrup leathers. If you've ever had to fight a new saddle's stirrups, you know this is one heck of a good feature. Why? With a Dakota Lite Wade Trail Saddle, right out of the box, your boots will slide home into the stirrups as if you've ridden in that saddle for years.
There's another reason this is an important feature. If your boot happens to slide from a stirrup on a rough ride, you need to get it back in the stirrup fast.
You don't want to have to reach down and grab for the stirrup when you could become unbalanced and fall.
And for that hard-to-fit, wide-shouldered horse, Dakota Lite Wade Trail Saddles have a Steele Equi-fit wooden tree with full Quarter Horse bars. This is a saddle that makes the horse and his rider feel good.
My Final Thoughts on Our Lightweight Trail Saddle Sale
It's not easy to come across a lightweight trail saddle sale. So when you come across one, you have to jump on it. The Dakota Lite Wade Trail Saddle is one of the best saddles on the market. It weighs approximately 29 pounds. That's lite for a western saddle. And it comes in 15", 16", or 17" seat sizes. There's a saddle for every rider.
So, if you have a wide-shouldered horse, and you crave security, this could be the saddle you've been waiting for. Was this post helpful? I'd love to hear your comments below. For more reviews on lightweight trail saddles, read my review, T60 High Plains Saddle Review.