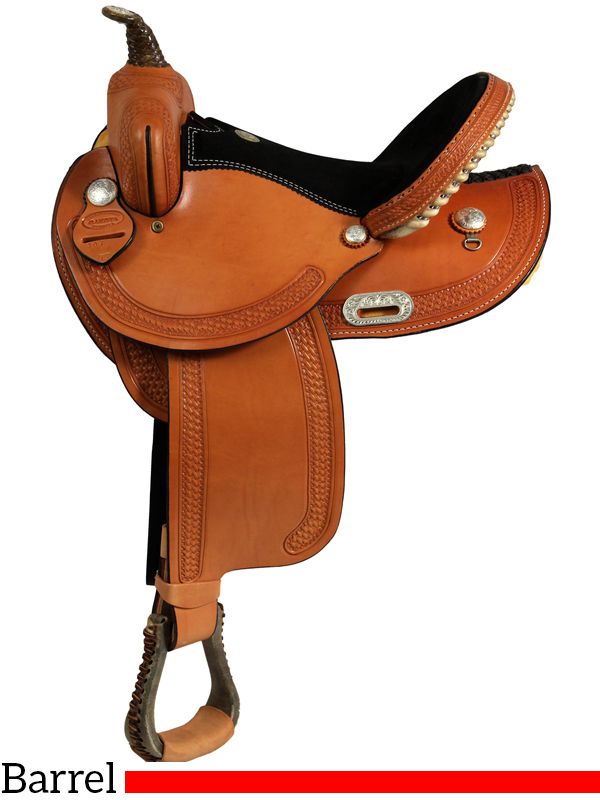 A Dakota barrel saddle sale is the perfect chance to get a high-quality saddle at an affordable price. 
Dakota has been making saddles since 1987 and has embraced the latest technology to provide you with the perfect barrel saddle.  
The products featured in the Dakota barrel saddles sale are handcrafted from top-quality leather and built for both speed and security. As a result, they are as suitable for trail riding as they are for barrel racing.
Each Dakota barrel saddle comes with in-skirt rigging so your legs can hang flush with your horse's flanks, giving you more control and better balance. 
The forward-hunt stirrup leathers will also help you adopt a more athletic riding position so you can stay with your horse as he blasts out of the barrel. 
Make the most of the Dakota Barrel saddle sale, and you could find yourself beating the competition with your style as well as your speed.
What Sets Dakota Barrel Saddles Apart From the Rest?
With over 30 years' experience under its belt, Dakota Saddlery knows how to create a top-quality saddle. They also know that it's what's inside that really matters, which is why they only use trees from the Steele Tree Company.
While the Dakota barrel racer 307 sports the traditional wood tree, the 300 and the 343 both boast the cutting-edge fiberglass-covered wood tree from Steele's Equi-Fit® Classic line.
This fiber-glass covering makes the tree stronger while keeping the saddle both lightweight and affordable.
Each of the products available in the Dakota Barrel saddles sale is made using thick American cowhide, which is good quality and hard-wearing. With their rough-out fenders and simple design, these comfortable barrel saddles will make you look as good as your horse feels.
All the Dakota Barrel saddles in the sale have a nice, wide flare at the shoulders and short, rounded skirts to give your horse greater freedom of movement and even faster times.
While designed for barrel racing, these eye-catching saddles won't look out of place in the arena or out on the trail.
Every saddle from Dakota comes with a 10-year tree warranty, guaranteeing you many years of happy riding if you purchase something in the Dakota Barrel saddle sale.
How A Dakota Barrel Saddle Could Be The Secret To Your Success
An ill-fitting saddle can cause all sorts of problems for both horse and rider, especially when competing in a sport like barrel racing that requires agility, balance, and speed.
If the saddle is too big for you, the rider, you could find yourself being left behind your horse as he powers out of the barrel or thrown sideways in the turn.
A saddle that's too small pushes the rider back onto the cantle causing the saddle to tip back and put pressure on the front of the horse's loins, restricting his movement and causing him discomfort.
Dakota will customize your saddle according to your measurements so you can be sure you'll have a saddle that fits you as well as it fits your horse.
Choosing the best barrel saddle from Dakota
Dakota Barrel Saddle Sale #1
14″ to 16″ Dakota Oak Leaf Barrel Racing Saddle 300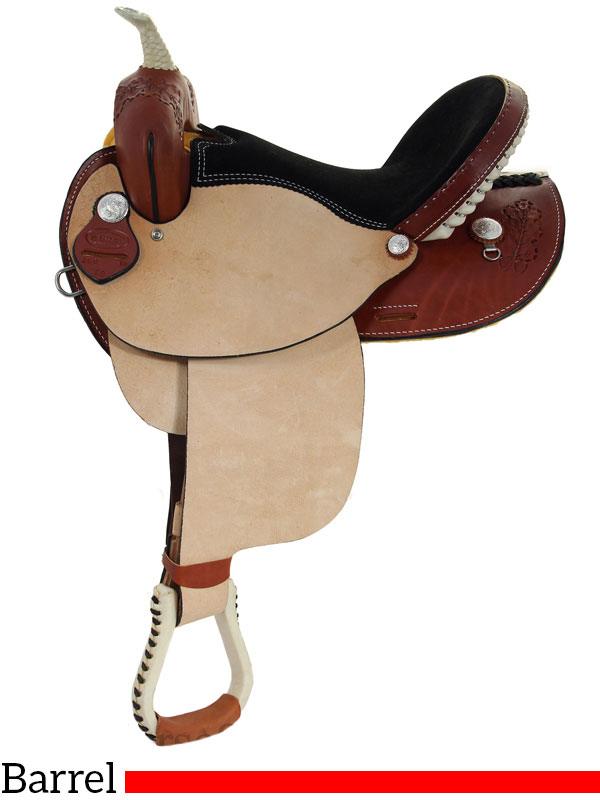 It's rare to find a quality barrel racing saddle for less than $1000, but if you're willing to bite the bullet and order a new one from the Dakota barrel saddle sale, this oak-leaf-patterned beauty could be yours for just $960.
It comes with either standard bars for horses with shorter backs or full quarter-horse bars for horses with a wider, flatter build. It features a short 24" skirt that will give your horse the freedom to lengthen his stride and quicken his pace. 
This saddle isn't just a work of art – it's the chance to shave seconds off your personal best.
Dakota Barrel Saddle Sale #2
14″ to 16″ Dakota Barrel Saddle 343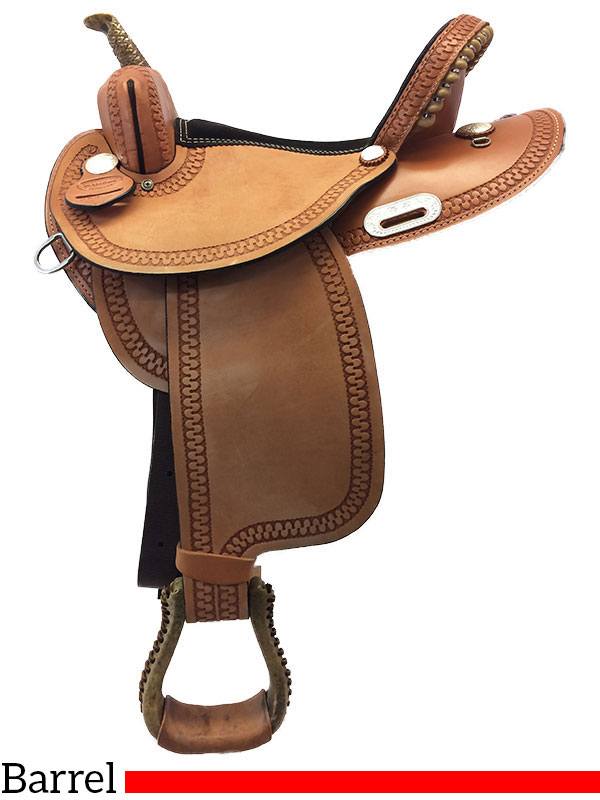 Engineered for security as well as speed, this elegant saddle has been handcrafted to give your horse freedom to move. Its chocolate-colored suede seat will give you extra grip, while the 7/8 rigging frees up your horse's shoulder and keeps you secure and balanced in the saddle.
Designed for racing this barrel saddle will look just as good in an arena or out on the trail, with its Montana Silversmith silver conchos and sliver-laced rawhide cattle.
A little pricier than the 300, this versatile saddle is nevertheless competitively priced and, if you buy it while the Dakota Barrel saddle is still on, you'll save over $300, which means you've got an extra $300 to spend on your horse!
Dakota Barrel Saddle Sale #3
14″ to 16″ Dakota Barrel Racer 307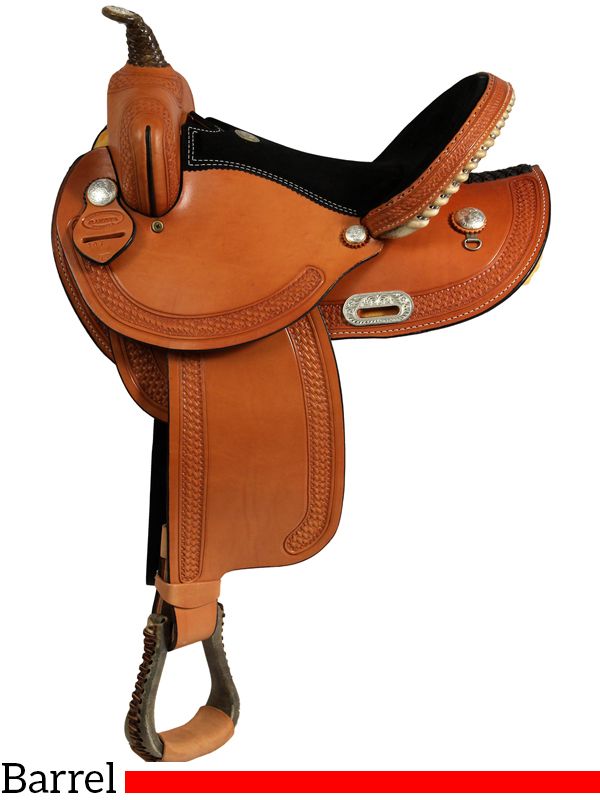 This eye-catching saddle could last you a lifetime if you look after it. Built for strength and durability, the 307 has a traditional wooden tree, brass rigging, and high-quality leather.
This bargain-hunters' dream flares away nicely to give your horse the ability to stride out and cut valuable seconds off your best time.
Designed for speed-work, this lightweight saddle is perfect for horses that are difficult to fit, including those with low withers and short backs.
Its suede seat is comfortable and secure, while its rawhide braided horn and cantle make it look as good as it feels.
Dakota Barrel Saddle Sale Conclusion
The Dakota Barrel saddle sale is the perfect opportunity to pick up a high-performance saddle for a cost-effective price.
Each one is handcrafted using only the highest quality materials and can be customized to suit your individual needs and those of your horse.
With various trees and rigging available, there's a Dakota Barrel saddle out there to suit every rider – and every horse. Whether you opt for a traditional wooden tree, or a fiber-glass one, these saddles are built to last, but not at the expense of either your or your horse's comfort.
Designed for speed and security, Dakota Barrel saddles could give you the edge you've been looking for and the length of stride your horse has been hankering after.
Was this Dakota barrel saddles sale review helpful to you? Let us know your thoughts by commenting below. Looking for more discounts on high-quality Western saddles?
Read my used Billy Cook Barrel Saddles Sale review and find huge discounts on tons of saddles.