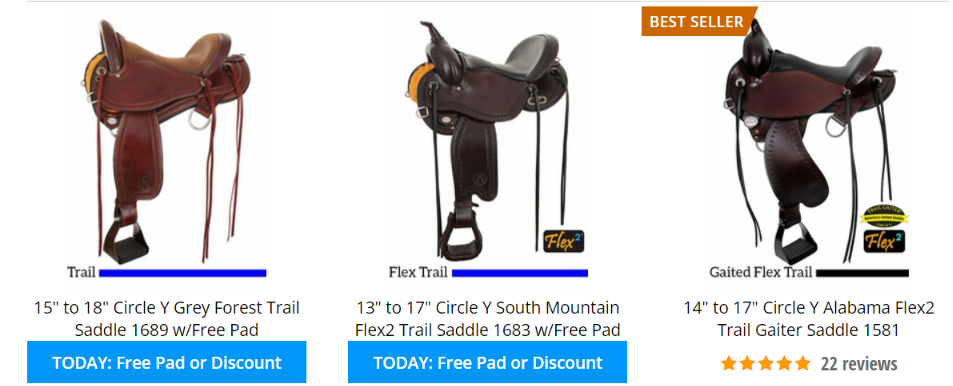 What are the best lightweight western trail saddles for beginners? Lightweight Western trail saddles can make or break your trail riding experience for both you and your horse. But, what do we mean by "lightweight"?
A lightweight trail saddle can weigh between 11-15 pounds. It can also weigh between 21-25 pounds. Anything above those weights are not considered lightweight.
No Two Saddles Are Alike
No two saddles are created alike. Many saddles, depending on the company, skimp on quality. So, do your research before plunking down your hard-earned cash on a saddle. Here's good news though. Circle Y is famous for its high-quality saddles.
It takes into consideration the comfort of both rider and horse. Today, I'd like to show case the Circle Y Creedmoor Flex2 Trail Saddle.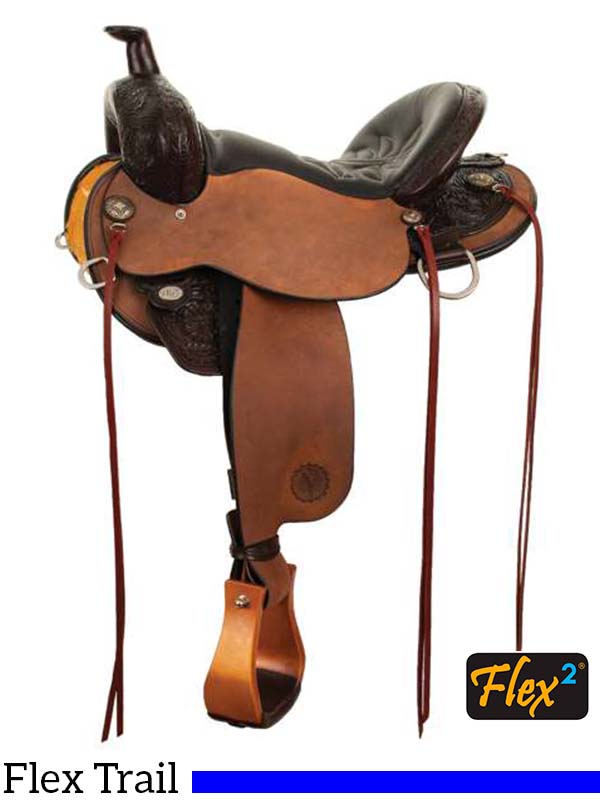 List Price: $2,805.00
Our Price: $2,550.00
Specifications
Color: Walnut, Regular Oil
Seat Color: Black Apache or Black Grainout
Tree: Flex2 SS – Regular or Wide
Hardware: Iron Vine
Tooling: 1/4 TB Flower
Stirrup: Wood Bell
Rigging: 3-Way Adjustable In-Skirt
Swell Width: 14″
Cantle Height: 5″
Cantle Style: 1-1/2″ Leather
Horn Size: 3″ Neck, 2-1/2″ Cap
Skirt Size: 11″D x 26″L
Weight: 27 lbs.
Lightweight Western Trail Saddles – Comfort for Rider and Horse
Let me explain why the Circle Y Creedmoor Flex2 Trail Saddle is a great investment for horse and rider. For starters, it's made with Flex2 tree. Lightweight Western trail saddles made with Flex2 trees are all about comfort for the rider and horse.
When you're hitting the trails, comfort is important, especially over rough terrain. You may not feel the pain of riding up and down hills right after a ride. But the next day, your butt will remind you.
Worse, once you dismount, you'll feel stiffness in your back and legs.
Of course, there are factors that contribute to stiffness in your back and legs after horseback riding, such as:
Poor Posture (Slouched Shoulders)
Leaning Forward During Turns
Hollow Back
Pinching Your Knees Together
But, if you have the right saddle, a saddle that specifically supports your posture, knees and ankles, you can look forward to every trail ride.
Lightweight Western Trail Saddles Stops Horse Suffering
The rider isn't the only one who suffers from the effects of a poorly built saddle. Your trail buddy will feel it too. And for him, it might be worse. An ill-fitted heavy saddle can cause back pain for your horse, saddle sores, pinching, rubbing, and other aches and pains.

When a horse becomes very sore, he may not want to do as you ask.
Worst-case scenario? Your horse may buck and throw you off his back. Can't really blame him though.
So, you want to find a good, lightweight Western saddle that'll be comfortable and safe for you and your horse. With the Circle Y Creedmoor Flex2 Trail Saddle, your saddle problems are solved.
Features and Benefits
The Circle Y Creedmoor Flex2 trail saddle checks off all the right boxes for the discerning horseback rider.
First, it features a Flex2 tree. The benefit of owning a saddle made with Flex2 tree is that it provides a rigid ground seat with a dual bar system.
The dual bar system provides the stability the rider needs to stay in the seat and flexibility where it's needed over the horse's spine. Moreover, the Flex2 tree is available for riders of all sizes. Best of all, the Flex2 tree has proven over time to fit a wide variety of horses.
Impact Foam Seat – No More Sore Butt
The impact foam seat means your butt will thank you after a weekend of being a trail warrior.
Flex2 Tunnel Skirt – For Your Horse's Back
Remember I told you in the beginning that a poor-fitting saddle can cause sores on your horse's back? Well, Circle Y Creedmoor Flex2 trail saddle solves that problem. Flex2 Tunnel Skirt helps provide relief for your horse's back by creating a channel in the spine area. Less rubbing and sore spots means a happier, safer horse to ride.
But what about rubbing on the horse's back you ask? A bumpy ride leads to lots of rubbing. I'm happy to tell you that our next feature solves the rubbing problem.
Smoother Ride with Neo-Shock Skirt
The Neo-Shock Skirt on this saddle muffles vibrations, which makes your ride smoother. Horse and rider will both appreciate a reduction of shock from rough terrain. And the skirt conforms to fit the horse.
Who doesn't like a smooth, comfortable ride? Let's not forget horses have different confirmations.
Problem solved with this next feature.
3-Way Rigging to Fit Different Horse Conformations
Horses come in all shapes and sizes. With 3-way adjustable in-skirt rigging, you'll be able to get a perfect fit for your horse no matter his conformation.
My Takeaway….
If you're in the market for lightweight Western trail saddles and you're a beginner, look no further than the Circle Y Creedmoor Flex2 Trail Saddles. It's lightweight and comfortable for you and your horse.
Was this post helpful?
I'd love to hear your comments below.