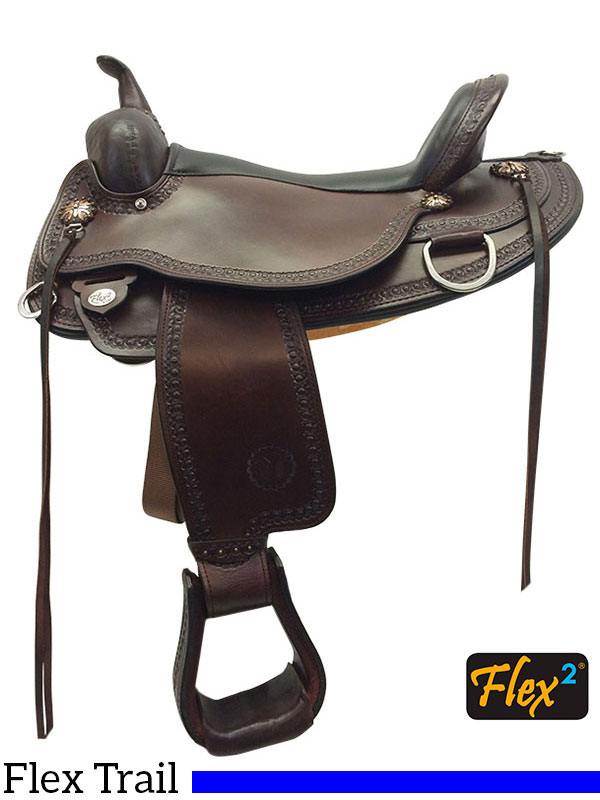 The Circle Y Copper Mine Saddle is one of the highest reviewed and best-selling saddles that Circle Y has produced. With the latest upgrade, copper spots and copper cross conchos have added some flair to the popular design.
Why is the Circle Y Copper Mine Saddle So Popular?
Here's the answer… because it's a wide-bodied horse owner's dream for western training or everyday saddle. From the full-grain leather to the custom conchos, the Cooper Mine Saddle from Circle Y will fit your budget, your horse, and your style.
Is the Circle Y Copper Mine Saddle Worth the Price?
It depends on how important flexibility, comfort, and style are to you.
When it comes to flexibility, this is a saddle that will fit most riders and most horses. The 3-way adjustable rigging will suit most horses' conformations.
D-rings are located on the swells and skirts to accommodate training aids.
The Softee seat jockey and fenders provide a comfortable ride for both horse and rider. And the ErgoBalance Stirrups will cut down on joint pain after rides. Add to that the Impact Foam seat that provides a comfortable cushion during rides, and you have a perfect combination for the price tag.
What's so special about this saddle?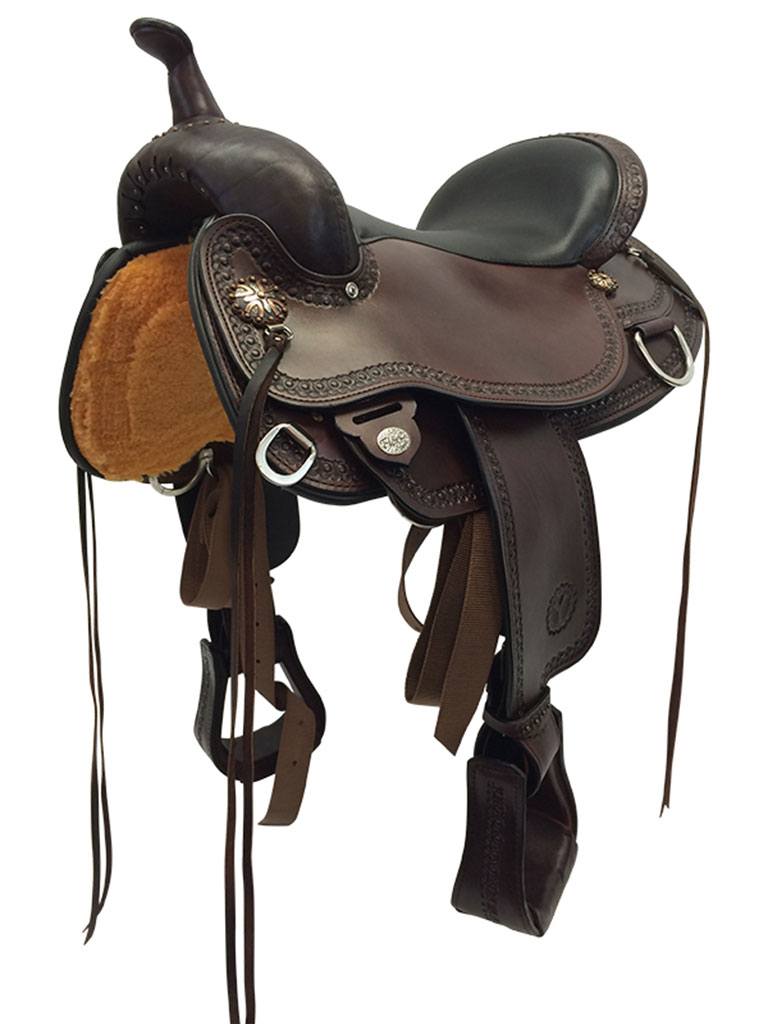 The Circle Y Copper Mine saddle isn't just pretty. It's good for both you and your horse, too. This saddle is equipped with the Flex2 Tunnel Skirt, which creates a channel along the spine to cut down on the rubbing that produces sore spots.
This decrease in pressure along the spine also allows hot air to escape so your horse can stay cooler on those long trail and arena rides.
And don't forget about the Flex2 tree, which has proven to be a headache-free tree. Unlike other trees, it won't get wider over time or flex to create pressure points (if it's properly fitted). And it's a lightweight saddle to boot.
And that's not all. The skirt is equipped with a Neo-Shock system that's designed to take most of the shock that comes from traveling on uneven terrain. It conforms to your horse and muffles any vibration between you, the saddle, and the horse so you're all riding smoother.
Then there's the dual bar system. This saddle has two. It offers a high-density bar, which disperses rider weight, as well as a low-density bar, which rests against the horse to give it more freedom of movement.
Which Tree Should I Get?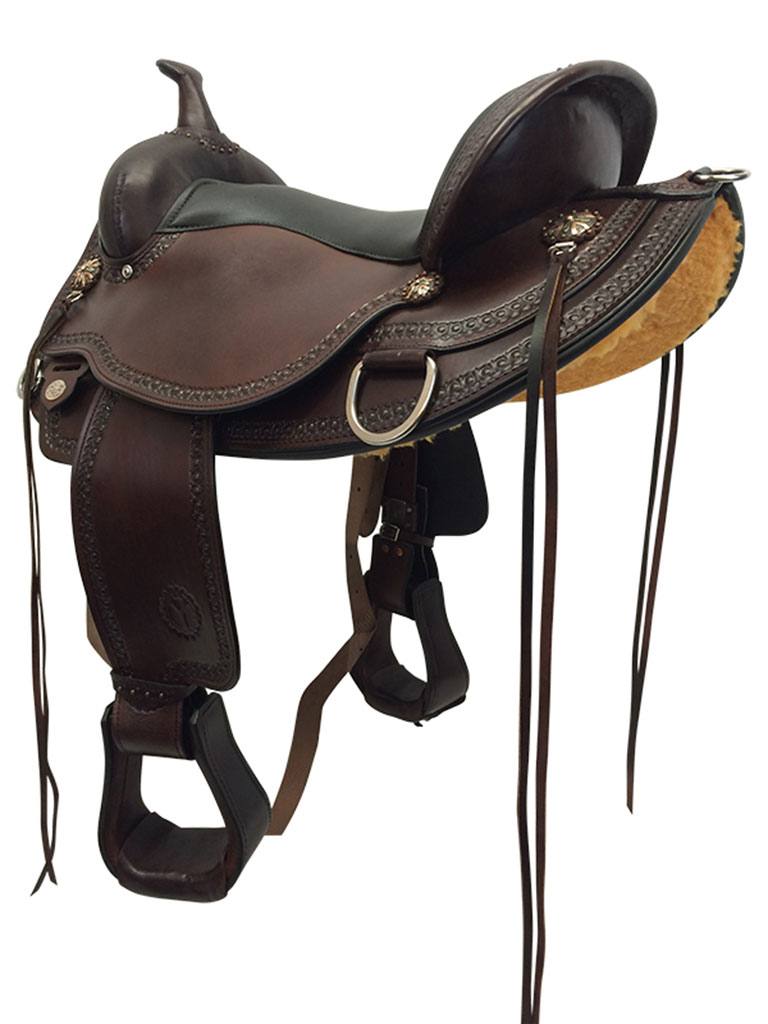 Getting the right fit for your horse is paramount for a good riding experience. For horses with a defined wither, the regular tree size is recommended. For horses that are wider or have mutton withers (little to no defined withers when looking at them from the side), a wide tree is recommended.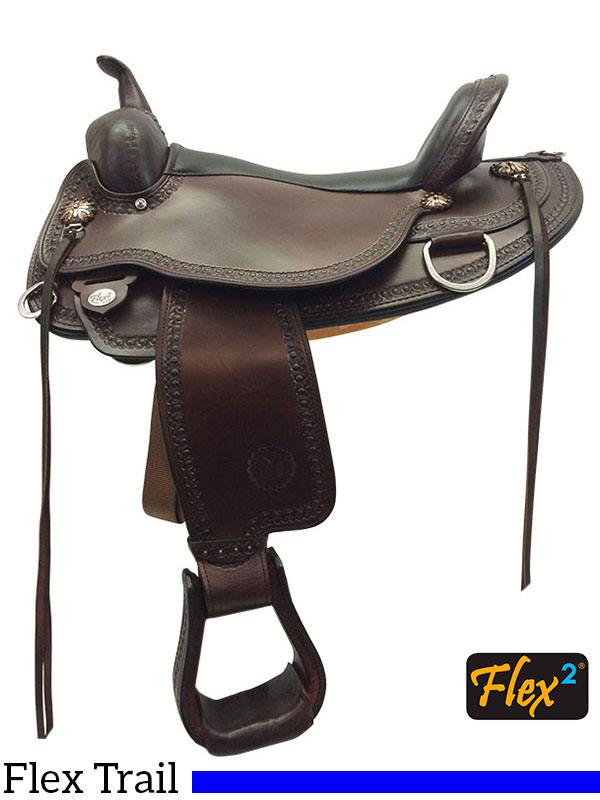 List Price: $2,365
Specs:
Skirt: 13″ D x 26″ L
Weight: 27 lbs
Cantle: 4"
What horse and rider combinations is this saddle suited for?
Without mincing words, this is a saddle for everyone. With the options available, this is a saddle that can be fitted to any horse and rider combination. And it still leaves room in the budget for all the other accessories for riding.
Was this post helpful? Looking for more trail saddle reviews? Read my "Circle Y Reno Trail Saddle Review"