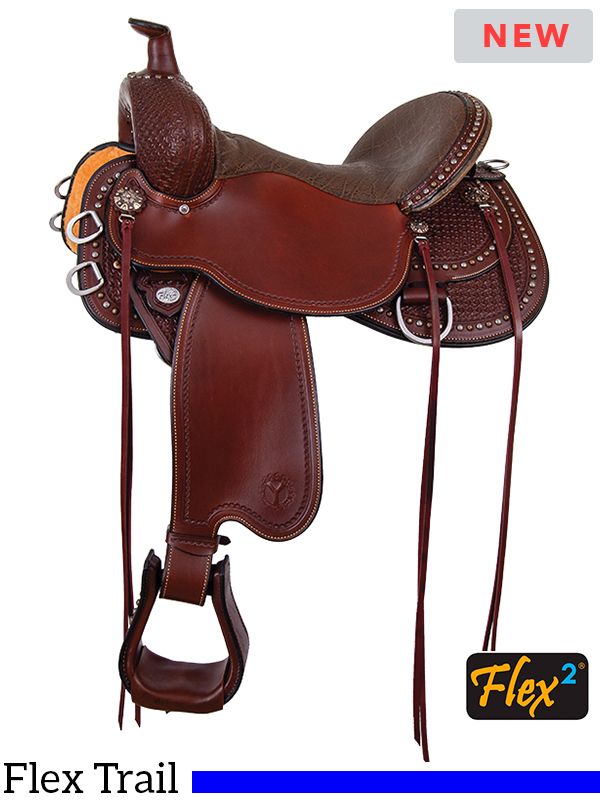 The Circle Y Reno Trail Saddle is a heavy testament to the excellent craftsmanship while being light on the wallet. From the stunning designs on the outside to the advanced technology put into it, this is a saddle that will please any rider.
Circle Y Reno Trail Saddle Technology Meets Comfort
This is a saddle that's equipped with the latest and greatest advancements in saddle technology while remaining a lightweight and durable option for riders. For example, the leather itself has been treated so it already feels broken in, and the seat is made up of a special foam to provide a soft cushion for riding those long distances.
Endurance riders will love this saddle given not only its light weight but the short skirt length will fit most Arabians. The Circle Y Reno Trail Saddle also comes with the ErgoBalance Stirrups, which make rides easier on the knees and ankles. The popular Flex2 tree has a proven track record of giving the rider balance and stability while being easy on the horse.
Style Unrivaled
But now focus on the exterior of the saddle. Having already touched on the soft leather, look at the fine details. The hand tooled camo border pairs nicely with the hardware that alternates between copper and nickel spots. And it comes in brown or black seats!
Small Business With a Big Market
Circle Y has a big reputation, and it started in a small town in Texas in the 1960s. Since their first orders of Leland Tucker's saddles, they haven't forgotten their roots. Every saddle is made in the same small town where it all started, Yoakum, Texas.
Every time you buy a Circle Y saddle, you're really supporting a small business. But their saddles, like the Circle Y Reno Trail Saddle, speak for themselves of the employees' craftsmanship and pride in their work.
Customers have a high regard for Circle Y saddles. They're well known amongst Endurance and trail riders, especially for those with Arabians as they're built for short back horses.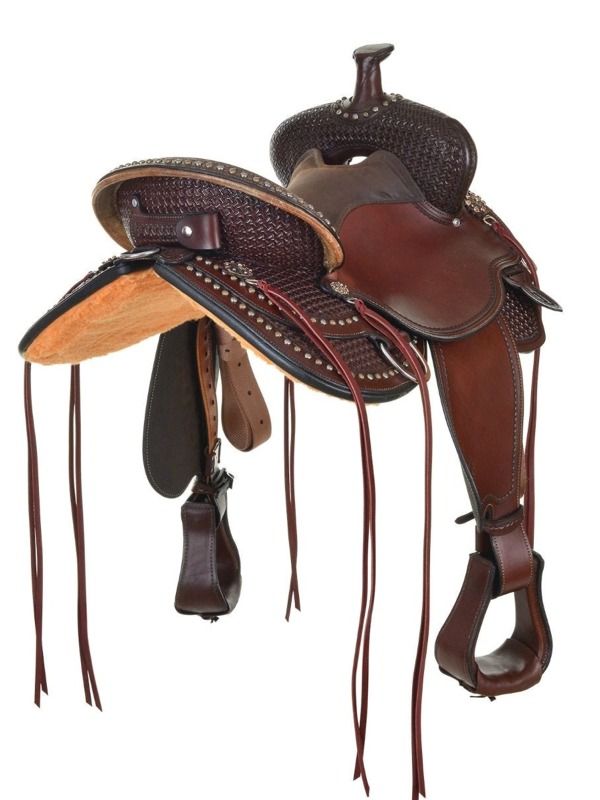 Circle Y Reno Trail Saddle Specs
Specs:
Tooling: 1/2 Spider with Camo Border Hand Tooled
Skirt: 15″ D x 26.5″ L
Rigging: 3-Way Adjustable In-Skirt
Compared to similar saddles out there, the Circle Y Reno Trail Saddle is lighter (coming in at around 30 pounds), flashier (loving those details and the bits of bling), and cheaper (only on the wallet and never on the quality).
Given the fact that this saddle's price tag isn't big, this could easily be a starter saddle for the show ring. It's suitable for multiple sizes of horses and riders since it comes in so many seat and tree sizes.
Versatility is a rider's friend, especially if you have multiple horses, and this saddle has many options to choose from to make sure both you and your horse are comfortable for those long trail rides.
My Final Word
The Circle Y Reno Trail Saddle is as good a deal as you're going to find. With everything else in the world getting more expensive, this price tag makes buying this saddle an easy decision. Would you like to read more trail saddle reviews? Please read my "Circle Y Flex2 Trail Saddle Review".