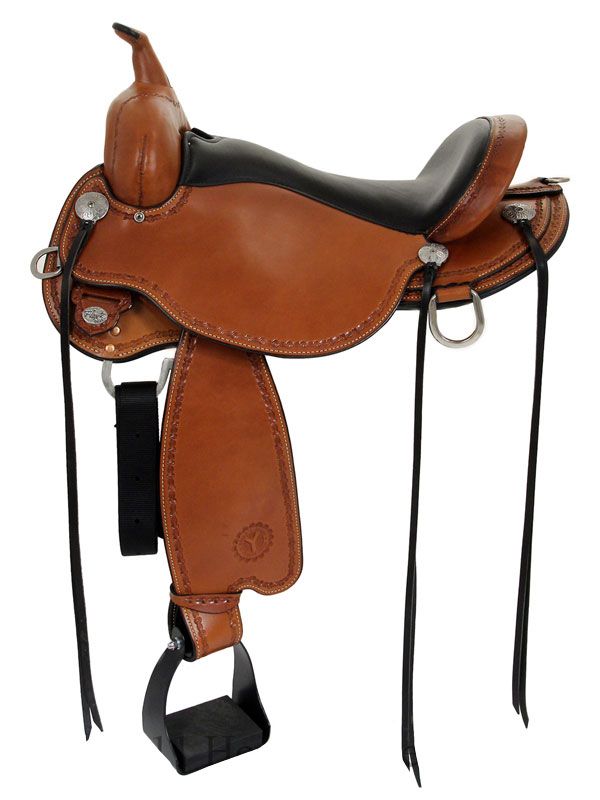 The Circle Y Salt River Flex2 trail saddle – wild horses won't drag fans away from this saddle. Well, at least not any time soon. Designed with equine ergonomics in mind, this saddle is meant to withstand long hours of riding without compromising on comfort (or style).
And once you read all about its bells and whistles, you may become a fan favorite too!
The Circle Y Story
It all started in 1960 in Yoakum, a small town just east of San Antonio, Texas. With a small dream and a big penchant for excellence. Founder, Leland Tucker, set out to make the best saddles possible. And he has.
From the barrel racer to the trail rider, Circle Y makes everything for everyone.

Eventually, Circle Y grew from a family business into a team of over 20 employees. In 2003, Circle Y underwent new ownership when Steve Tucker, founder of Tucker Trail Saddles, came on board. Under Steve's guidance, the company continues to deliver excellent equine equipment.
It's still one of the leading saddle-makers in the industry.
Stylishly Comfortable and Flexible
The handcraftsmanship of Circle Y saddles contributes significantly to the superior quality of these products. The designers use leading technology and extensive research to create long-lasting equipment that provides years of enjoyable rides.
But what really takes the cake with Circle Y is the company's commitment to staying ahead of the curve.
They do this by fitting hundreds of horses annually and have even developed the Flex2® Tree: A tree with a dual-bar system that provides maximum flexibility and stability. This progressive thinking sets the company apart and makes its saddle designs unique.

Now, let's check out what the Circle Y Salt River Flex2 Trail Saddle is all about!
List Price: $2,365.00
Our Price: $2,150.00
Specifications
Multiple seat sizes
Multiple color options
Flex2® Tree Design
Softee Leather
Three-way adjustable in-skirt
Impact foam seat
Why The Circle Y Salt River Flex2 Trail Saddle?
Okay, you might be thinking, what's so special about this saddle, right? Well, according to most customer reviews, comfort clearly plays a big part. Many riders describe little to no knee pain at all, which, as veteran riders know, is a necessity.
The ErgoBalance Stirrups help prevent the ankles and knees from twisting.
That means the elimination of sore joints (which helps with sciatic pain as well). Additionally, the Flex2 Tunnel Skirt keeps things cool as it allows hot air to escape, decreases rubbing, and prevents sore spots along the spine.
Lightweight and Broken-In Feeling
It's hard to believe that a saddle could pack more punch. Yet, the Circle Y Salt River Flex2 Trail Saddle surpasses expectations. Check out these additional features!

The impact foam seat appears to be unmatched and is another highly regarded saddle feature. As such, trail guides praise this saddle's ability to deliver extended hours of comfortable horse riding.
And, to boot, the 'Softee' leather already comes with a worn touch, meaning you won't have to worry about breaking in the saddle. Not to mention that it weighs in at only 24lbs. But there's still more!
Circle Y Salt River Flex2 Trail Saddle
Functional and Good looking
Just like how an embroidered saddle might scream elegance, this Circle Y trail saddle is synonymous with sophistication. Customers remark about its sleek design, polished finish, and timeless appeal.
They're also big fans of the black strings and stirrups, with many highlighting that these delicate details and traditional look are what make this saddle stand out.
Yay or Nay?
It would be hard not to like this classic-looking saddle, with its wide selection of seat sizes, Flex2® Tree, and a three-way adjustable in-skirt that allows for long-lasting rides.
Most importantly, it provides uber comfort, security, and control for the rider. If you're looking to invest in something stylish and durable, you won't be disappointed with the Circle Y Salt River Flex2 Trail Saddle.
Did you find this Circle Y Salt River Flex2 Trail Saddle review helpful? Would you like to read more reviews on trail saddles? Read my Julie Goodnight Saddle Sale Review.