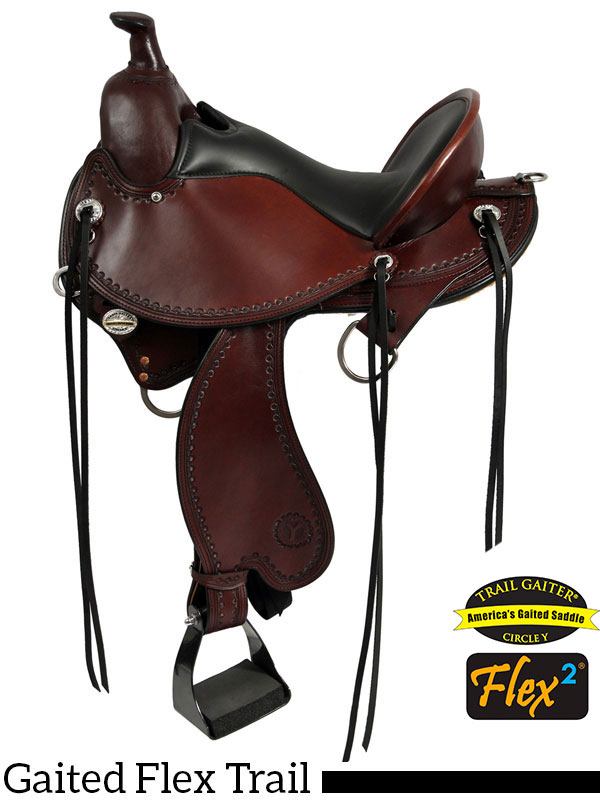 Got a hard-to-fit, gaited horse? Tired of coming home from a trail ride with a sore butt, achy knees and feet? If you have a gaited horse, a Circle Y Kentucky Trail Gaiter Saddle could be the perfect solution for both you and your horse. Circle Y Kentucky Trail Gaiter saddles are made for riding long hours on the trail in comfort.
Trail riding is so much fun. Or at least it should be.
With the right saddle, it is. But if you're sitting on a saddle that could double as an antique tractor seat, the ride can lose some of its sparkle. And the next day? Yeah, you know what that can be like.
Stiff and sore pretty much sums it up. It's the same for your horse too.
An Ill-Fitted Saddle Equals an Unpredictable Horse
Trail rides aren't fun for your horse if his back is hurting, or, if he doesn't have enough room for his shoulders and hips to move freely. Nor are trail rides fun for your horse if he can't raise his head enough because the pommel is too low for him as a gaited horse.
A miserable horse is an unpredictable horse.
So, What's The Solution?
No need for you or your horse to suffer. Why? Because the Circle Y Kentucky Trail Gaiter Saddle is made for gaited horses. It's made by people who understand what your horse needs for optimal performance.
The Circle Y Kentucky Trail Gaiter Saddle encompasses everything you and your horse need to ride comfortably – no matter how long you ride, or the kind of terrain you're traversing.
Fits a Variety of Horses (Even Hard-to-Fit Horses)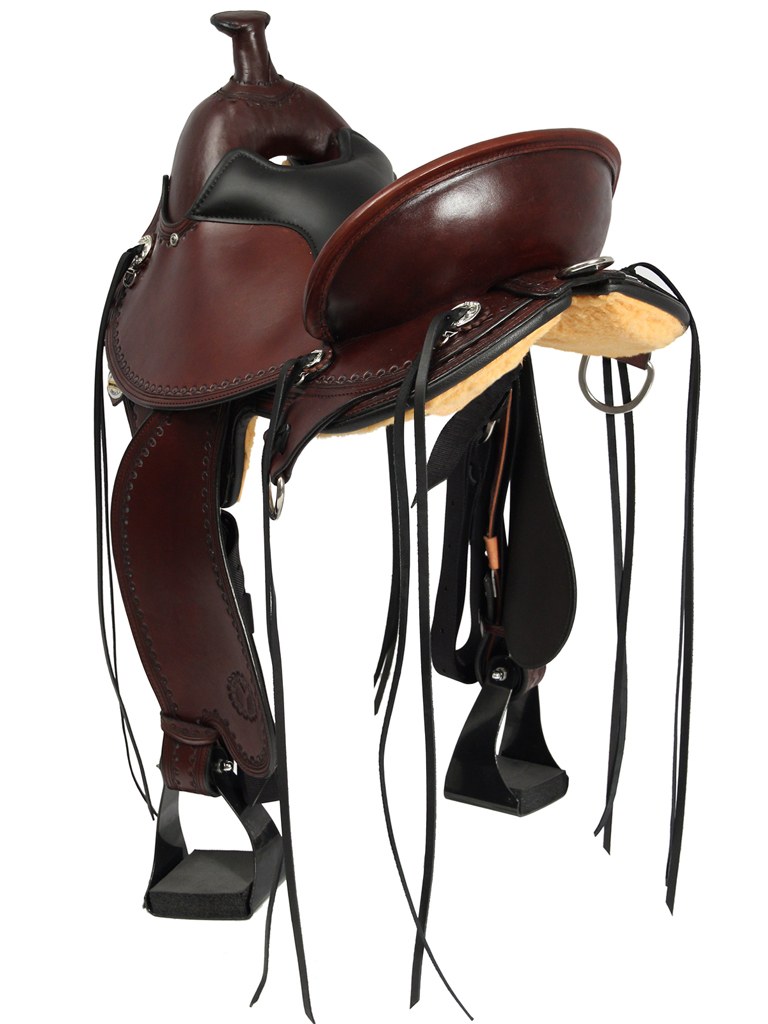 The Flex2 tree has a rigid ground seat with a dual bar system that provides both stability and flexibility where it's needed. So your seat won't cave in and hurt your horse's spine over a period of time. There's just enough cushion and rigidity in all the right places. This tree is available for riders of all sizes and has proven over time to fit a large variety of horses.
No More Sore Butts
Nothing kills a long (or short) trail ride like a hard seat. And with a Circle Y Kentucky Trail Gaiter Saddle, you won't have to. What's the secret to this saddle's comfort? The seat is super-soft with impact foam to cushion your ride with every step.
Here's the kicker: Although this seat provides lots of cushion, it won't wear down quickly over time like other saddles.
No Break-In Period Necessary
The comfort of this saddle is simply unmatched. Best of all, there's no annoying break-in period. Jockeys and fenders are made of Softee leather, which are soft and supple right out of the box. What that means for you, the rider, is that there's no twisting the stirrups into position until the leather molds into the right shape.
It also means no more sore legs while you try to twist your stirrups to suit you.
Absorbs Shock on Rough Terrain
Like I said in the beginning of this post, nothing kills a trail ride like riding over rough terrain and coming home with a sore body. Our Circle Y Kentucky Trail Gaiter Saddle is made with a Neo-Shock Skirt.
What does the Neo-Shock skirt do? It absorbs shock from rough terrain and uneven surfaces through the neoprene filler. This filler is designed to muffle any vibration – providing a smoother ride for both you and your horse.
Best of all, this skirt conforms to the conformation of your horse! Pretty darn nifty, right?
Say Good-bye to Sore Knees, Feet and Ankles
If you find that after a trail ride, your knees and feet are sore, the Ergo-Balance stirrups are a real life-saver. The trademarked Ergo-Balance eliminates torque on a rider's knees and ankles. It allows you to tilt the stirrups, and keeps you in proper position for balanced riding. Balanced riding takes the strain off your legs caused by improper riding position.
Eliminate Pressure on Your Horse's Spine
Your horse will be grateful for you buying the Circle Y Kentucky Gaited Trail Saddle too. Why?
Horses suffer in silence. They can't tell you when the saddle is putting too much pressure on their spine. Your horse can only suffer in silence.
Fortunately, the Circle Y Kentucky Gaited Trail Saddle solves this problem. The Flex2 Tunnel Skirt will save your horse's back by creating a channel in the spine area. The channel alleviates rubbing and sore spots along the spine. It also helps your horse stay cooler by letting hot air escape, while cool air can flow in.
3-Way Adjustable In-Skirt Rigging
One of the features I love in this Circle Y Kentucky Gaiter saddle is the 3-Way adjustable in-skirt rigging. So, you've got several rigging options and positions to best suit fitting all of the different horse conformations.
Our Circle Y Kentucky Trail Gaiter Saddle is an all-around winner. It's hard to bet wrong with this saddle. Let's take a look at the specs and the price.
Specifications
Color: Black, Walnut, Regular Oil
Seat: Suede or Grainout
Tooling: Border
Tree: Trail Gaiter A-fork Flex2 Regular or Wide
Silver: Silver on silver wire edge with balls
Leather: Herman Oak Leather
Rigging: 3-Way Adjustable In-skirt
Swell Width: 10″
Cantle Height: 5″
Horn Size: 3-1/2″ Neck, 2-1/4″ Cap
Skirt Size: 10″ x 25″
Weight: Approximately 27 lbs.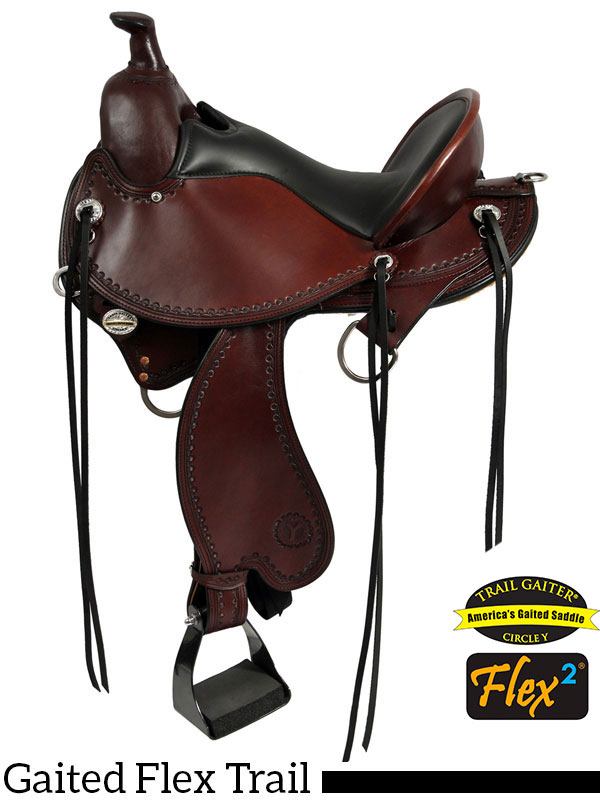 Circle Y Kentucky Trail Gaiter Saddle Reviews
From Some of Our Riders
Here are some reviews our riders have left:
"We ride some pretty extreme terrain and this is just the saddle I needed."

Another customer wrote, "The high cantle, soft seat and Ergo Balance Stirrups allow me to trail ride for hours with no soreness, despite having back issues."
Here's one more:
"We mostly trail ride and after a long ride I am not sore at all. In other western saddles my knees and ankles would hurt."
My Final Thoughts
You and your horse are going to love this saddle.
With all the features and benefits to help your horse move with ease under a saddle built with his special needs in mind, it's really hard to go wrong with this one. Gaited horses need more shoulder and hip room than non-gaited horses.
Gaited horses also need to be able to lift their heads higher than most non-gaited horses at times. Our saddle will allow that without your horse's neck banging into the pommel.
At the end of a day's ride, the Circle Y Kentucky Trail Gaiter Saddle will leave you feeling invigorated – not sore and achy. And your trail buddy's back won't be pinched or sore either. I highly recommend this all-around trail saddle as attested to by riders and their happy trail companions.
If you're considering a new saddle for you and your horse, the Circle Y Kentucky Gaited Trail Saddle is the perfect choice.
Was this post helpful? Leave your comments below. If you'd like to see reviews of other trail saddles, read my post, Big Horn Gaited Saddle Review.