The Circle Y Alabama Trail Gaiter Saddle is made for hard-to-fit horses. What kinds of horses are those you ask? Well, it's time to talk about gaited horses and what these breeds need in a saddle. Then we'll talk about the Circle Y Alabama Trail Gaiter Saddle (broken down below).
What's a Gaited Horse?
A gaited horse moves a little differently than other horses. That's because no matter their stride, one hoof is always on the ground. This style of movement allows the horse to conserve energy while trotting. Gaited breeds were bred for traveling since their distinct gaits gave them more stamina and endurance.
Typically, a gaited horse will have a four-beat gait where its hooves follow a pattern if observed closely (right hind, right front, left hind, left front). When watching a gaited horse walk from the side, you'll also likely notice that the legs on one side move together forward and back.
This movement is popular because it eliminates the sometimes jarring movement of a regular horse's trot.
Circle Y Alabama Trail Gaiter Saddle…
Does my gaited horse really need a special saddle?
Some will say that a gaited saddle is just a fancy way of getting money out of your pocket. However, anyone who has invested in a gaited horse should also know that a saddle's fit goes a long way to making your horse comfortable. Many suggest going with a treeless saddle, and while that may work for some riders, it probably won't be comfortable for a shorter rider on a wide horse.
Regular horse vs. gaited horse saddle
Think of it like this: you wouldn't stick a saddle made for Quarter Horses on a Shetland Pony. Certain conformations need special consideration. Gaited horse breeds are built differently, and their movement makes it difficult to find an appropriate saddle that isn't made for gaited horses.
This is why it's important information to know all aspects of the horse and its tack before purchasing either. If you purchase a gaited horse and only have a saddle made for a narrow horse, you'll likely need a new saddle as they're usually built wider than most horse breeds.
The Circle Y Alabama Trail Gaiter Saddle…
What's to a gaited saddle?
This is a new phenomenon. Before around 1996, all saddle trees were designed to fit Quarter Horses. When research showed the benefits of saddle fit, gaited riders took notice and began looking for saddles that helped (rather than hindered) their horses' movement.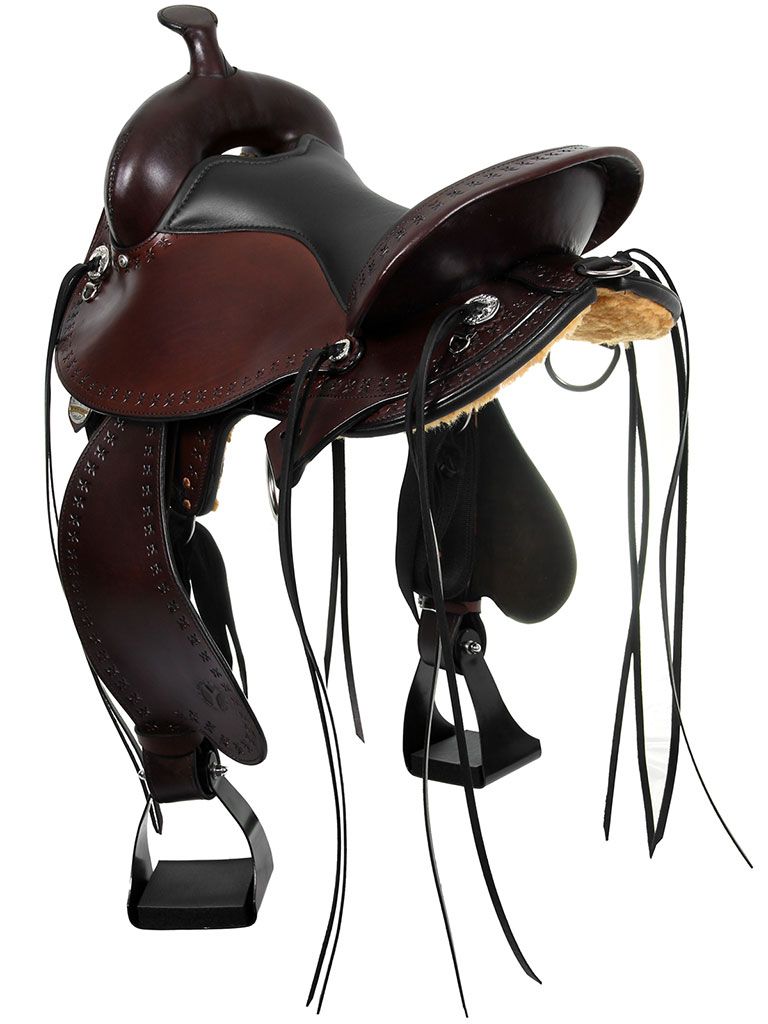 The main difference between a gaited saddle and a typical western saddle is the shape of the tree. Now, a gaited saddle can be English or Western, but that tree design is made so the gaited horse's shoulders and back are free to move in their specialized gaits. Gaited horses also carry their heads higher to assist in their gaits. Because of this, the gullet height is higher.
Got a gaited saddle recommendation?
List Price: $2,365
Our Price: $2,150
Specs:
Skirt Size: 15″ seat = 25″, 16″ seat = 26″, 17″ seat = 27″
Weight: Approximately 25 lbs.
Tree: Trail Gaiter Flex2 Regular and Wide
My Circle Y Alabama Flex2 Trail Gaiter Saddle Conclusion
A special horse with special movement deserves the Circle Y Alabama Trail Gaiter Saddle. This saddle is customizable to fit a wide range of gaited breeds and their riders.
Not only that, but your horse will have a greater range of motion thanks to the NeoShock skirt with its shorter, rounded design. The leather is Circle Y's Softee leather, which means the saddle is ready to go and is pretty much already broken in straight out of the box.
The Ergo-Balance stirrups are designed to help relieve the fatigue felt by the knees and ankles on rides.
Odds are that you've bought a gaited horse for its comfortable stride. Why wouldn't you get a saddle that ensures both of you are comfortable? Was my Circle Y Alabama Trail Gaiter Saddle Review helpful?
If you'd like to read more trail saddle reviews, read my Circle Y Omaha Flex2 Trail Saddle Review.