Western saddle tree sizes… how do you determine them? Horses have different back shapes and sizes. If you're planning on participating in any Western riding discipline, you'll need to understand the importance of Western saddle tree sizes, how to determine whether the tree will fit your horse, and how Western saddle tree sizes affect your horse's ability to perform.
Western Saddle Tree Sizes – Does Your Saddle Pinch?
If you buy a saddle that pinches a horse's shoulders or presses on his withers, this can have very negative effects on the horse and how you ride.
Your horse will be in pain, and he may not let you mount him because you have the wrong tree size, and it's probably digging into his shoulders.
So, saddle tree size determines whether you have a good fit for your horse and whether your horse will be comfortable with you riding on him.
Western Saddle Tree Sizes – Are There Standard Guidelines?
The horse saddle industry doesn't have standard guidelines that designate Western tree saddle sizes. However, there are several methods you can use to closely approximate the size of your saddle's tree.
Western Saddle Tree Sizes – How to Measure Western Saddle Tree Sizes
Here are some things to look for when trying to measure Western saddle tree sizes to match your particular horse. Whether your horse has a narrow or wide back, you should follow the below guidelines.
Examine The Angle of the Bars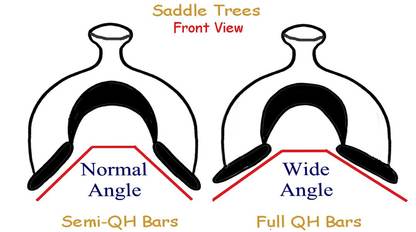 The angle of the bars, as they come down the gullet, determines your saddle tree size. For example, the greater the angle of the bars, the wider the tree. What kind of horses use wide trees?
Broad-backed, mutton withered horses will need wider trees.
Bars Have Different Angles
The bar angle is comparable to the pitch on a barn's roof. You have some angles that are steep and narrow, while others are flat.
The ideal angle for the bar, when viewed from the front of the horse, should match the slope of the area just behind the horse's shoulder. This area is known as the "saddle pocket."
Bar Twist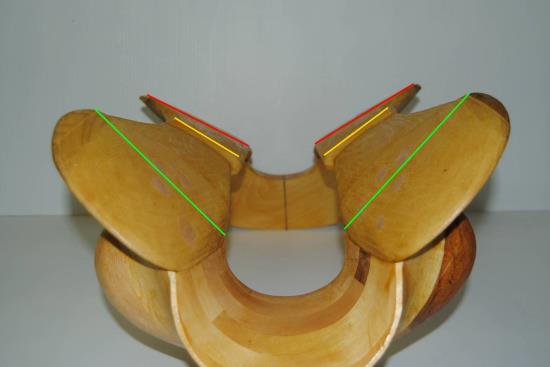 The change of the bar angle from front to back as it follows the contours from just behind your horse's shoulder toward his croup is referred to as the bar twist.
If the bar angle and twist match perfectly to your horse's back, chances are everything els will fit as well.
How Much Flare Do The Bars Have
The bar tips (usually in the front) where they curve upward and away from your horse's shoulders is referred to as bar flare. Some trees offer a little flare in the back as well to allow for a high-croup horse.
Bar Curve, Rock, or Sweep
The amount of curve in the bars from front to back is referred to as the bar curvature, rock or sweep. Some horses need a tree with a little curve, while others need lots of curve.
What kind of horse needs a tree with very little curve? A horse with a flat topline.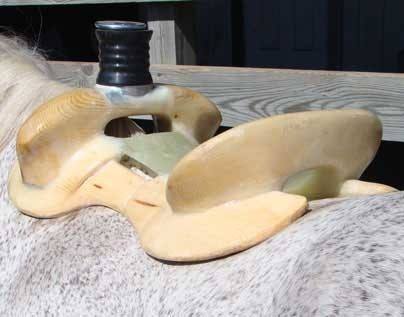 However, a swayback horse, or one with a dip will need a tree with a lot of rock to it. Curvature of the tree is crucial to the fit of the saddle. Putting a flat tree on a horse with a sway back makes no sense.
Likewise, you wouldn't want to put a curved tree on a horse with a flatter back. Neither of these scenarios make for a happy horse.
Narrow Bar Angle
In general, a saddle with a normal or narrow bar angle is considered as having a regular or semi-quarter horse bars. The exact measurement of these bars will be an angle of 86 degrees, plus or minus 3 degrees in either direction.
Wide Tree
A saddle that has full quarter horse bars, also known as a wide tree, generally has a measurement of 90 degrees, plus or minus 3. A very wide tree will have an angle of 94 degrees plus or minus 3.
Very wide trees are often used on large horses such as drafts.
Contact the Manufacturer if You Can
When all else fails, the best and easiest way to determine Western saddle tree sizes is to contact the manufacturer of the saddle and asking them.
A high-quality saddle will have the manufacturer's lable and serial number stamped on a plate located on the saddle. It could also be found on the stirrup strap. Once you've contacted the manufacturer, ask them to look up your saddle tree size.
For more information on Western tree saddle sizes visit The Horse Saddle Shop.
Did you find this helpful? I'd love to hear your feedback.