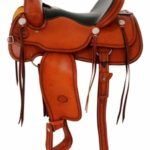 Has your horse ever kicked you in the face when you've come to saddle him up? Is your horse moving in a relaxed manner, happily complying with your commands?  Or, is he stiff, moving crookedly and acting cranky and rebellious? Odds are, he's wearing the wrong horse saddle size.  His saddle doesn't fit and he's in agonizing pain!
Think about it.  When a horse is wearing an ill-fitting saddle, it's the equivalent of you buying a new pair of shoes that's 1 size too small.
A Bad Fitting Saddle is Like Shoes That Don't Fit
Imagine walking around all day in a pair of shoes that don't fit.  Maybe you feel fine for a few minutes.  But gradually, your feet start to ache.  Your shoes chafe the back of your heels, cause pressure points.  And your feet become red and sore… until the pain becomes unbearable.
How agonizing is that?
Now… imagine how your horse feels.  When you buy a saddle that doesn't fit your horse, he's absolutely tortured.  His back is painfully sore.   He's in a rage because you don't "get it", and you keep chastising him for not performing well.
He wants nothing more than to kick the hell out of you!
No wonder your horse reacts by biting you and kicking you when it's time to saddle up!  Luckily, I've solved your problem.  At Horse Saddle Comparison, I help you choose the right saddle for your horse by reviewing a wide variety of Western saddles and English saddles that fit every kind of horse.
Whether you own a…
Quarter Horse
Saddlebred
Appaloosa
Tennessee Walking Horse
Arabian Horse
Standardbred
Rocky Mountain Pony

Morgan



Horse Saddle Comparison will help you pick the saddle that fits your horse so that:
He performs eagerly, his athleticism uninhibited by back pain
He turns fluidly and moves freely with an easy stride
Receives aids and responds willingly and correctly
We Help You Pick the Right Saddle So That You: 
Sit on your horse effortlessly, relaxed and balanced
Find it easy to alter or correct your position
Communicate easily with your aids with subtly and clarity
Feel like riding is more fun than frustrating
Size and Fitting Problems?  We Help You Choose.
Not sure which horse saddle to buy because of size and fitting problems? Do you want to make sure your horse saddle fits perfectly on your horse so that your horse and you are always comfortable during long trail rides?
Horse Saddle Comparison Makes the Saddle Work for the Horse and You
Wouldn't it be great if you had a fail-proof way to measure your horse and saddle – even if you didn't actually have the saddle with you so that there's a perfect saddle fit – no matter what the breed or how odd-shaped your horse's back?
At Horsesaddlecomparison.com we personally show you how to select the right saddle and size for your horse – no matter how odd shaped your horse's back!  Accommodating multiple horses is no problem for us.
Now you can help your horse avoid the pain of:
Dry Spots

White Hair

Saddle Sores

Muscle Atrophy

Temporary Swelling
…and all the other ugly, painful ways your horse suffers in silence.
Horse Saddle Comparison is for you, the horseback riding enthusiast who's new to horseback riding and needs help buying a new (or used saddle).  It's also for the pro at horseback riding who knows exactly what type saddle to buy.
Here are just some of the brand name Western saddles you'll find:
Circle Y Saddles
Tucker Saddles
Big Horn Saddles
Billy Cook Saddles
Tex Tan Saddles
Abetta Saddles
Rocking R Saddles
Reinsman Saddles
Abetta Saddles
Here's a peek at some of our Western Saddles….
At Horse Saddle Comparison, you also get a wide selection of high Quality English Riding saddles.   Of course, before you buy an English saddle, you'll want to measure the saddle just like you would a Western saddle.
Measuring the seat of an English saddle will ensure a proper fit for you, and measuring the gullet and tree size will ensure the best fit for your horse.  We'll help you get the right fit before you buy one of our saddles.
Our high quality English saddles consist of brands like:
Pessoa Saddles
Bates Caprilli
Marcel Toulouse
(Henri de Rivel
Wolfgang Solo Dressage Saddle
Wintec
Dressage Saddles
Hunt Seat Saddles

Take a sneak peak at some of our High Quality English Saddles….
What's more, you can take your pick from among a variety of saddles by riding style such as:
Dressage (English Riding Style)
Hunt Seat (English Riding Style)
Roping
FQHB
Trail
Gaited Horse
All-Around
Barrel Racing
Cutting
Show
Endurance
Barrel Racing
Endurance
Pleasure
… and a whole lot more!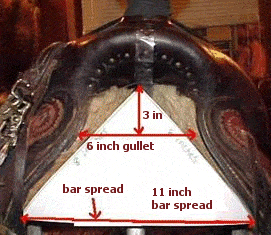 Finally, I'll teach you how to measure your horse for the perfect fit, give you access to free gullet templates, and lots of helpful articles on horse care maintenance and saddle maintenance.
So what are you waiting for? Buy one of our Western Saddles or English Saddles Now!